STAGE TO SCREENS: Dan Stevens, From "Downton Abbey" Heir to Broadway's The Heiress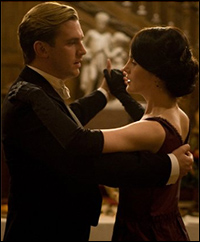 © 2011 - Carnival Film & Television Limited.

After the success of "Downton Abbey," which has made you much more recognizable, do you have to work extra hard to make sure that audiences don't see you as Matthew Crawley?
DS: This has been a great opportunity to show American audiences something different and break the mold a bit, but it's actually been fun to have audiences arrive expecting to get Matthew Crawley and then actually getting Morris Townsend. They immediately want to like him because he looks like Matthew, who's so honorable and good, and yet Morris might actually be a scoundrel. So we've been able to play with the audience's preconceptions, not only of Morris but also of the actor playing him.

Before you arrived in New York for rehearsals, were you aware of how popular "Downton Abbey" was here in the States?
DS: I wasn't really. I've been here a couple of times over the past few years, so I was aware of the growing mania, but this trip has been pretty intense. There are times when I've left home and thought I was flying away from "Downton" mania, but actually I was flying head-on into it. You guys are even crazier about the show than people back home. The stage door has definitely been very busy every night, but it's been kind of thrilling.

Your first visit to New York and the U.S. was in 2005, when you played Orlando in As You Like It, a touring production staged by Sir Peter Hall at Brooklyn Academy of Music. Were you intrigued even then by the idea of doing Broadway?
DS: Absolutely, and for the last seven years I've been dreaming of coming back and performing here again. It was a phenomenal experience. Although it was out at BAM, we had a very engaged, lively New York audience come out to see our show — I think there's just something about Shakespeare being done by a British company that they love. New York just has such an exciting energy. It's taken a little while for me to come back and do Broadway, so I'm very excited that it's finally happened.

Did you see your first Broadway show during that particular visit?
DS: I think I was too busy that time. I'm not sure I saw anything during that trip. But the last time I was in New York was a couple years ago while I was filming the Amy Heckerling movie "Vamps." My wife came over and I took her to see A Little Night Music with Bernadette Peters and Elaine Stritch, which was funnily enough at the Walter Kerr. So when we found out that The Heiress was going to be at the Walter Kerr, it felt like it was meant to be.

Growing up, what was your earliest exposure to live theatre?
DS: My dad tells me that he took us to a pantomime when I was very, very small — panto being a sort of English phenomenon. There's traditionally a part of the show where they'll invite kids up on the stage to interact with the show. I was too young to remember this, but my dad says that I was running up onstage before they even asked us. Later on at school, teachers would write in reports that I would distract others or that I was reckless, but I was allowed to let that energy out on the school stage, and I was lucky to have been taught acting by some very inspiring teachers.