STAGE TO SCREENS: Dan Stevens, From "Downton Abbey" Heir to Broadway's The Heiress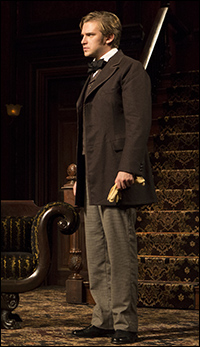 Photo by Joan Marcus

You famously got your big break as a first-year undergraduate at Cambridge University while playing the lead in Macbeth opposite Rebecca Hall, daughter of celebrated stage director Sir Peter Hall. Your substantial working relationship with Sir Peter Hall began after he came to see the production and offered you work once you'd graduated. What did you learn from that legend?
DS: Yes, I've been very lucky to get to work with him on a number of different productions. There are two major things I've taken from my time with him. The first is that you should always trust the text. I've never been a fan of directors who clutter a piece with all sorts of crazy preconceptions or weird ideas. Sir Peter sits and tries to make sense of the text. His productions are very clear, you can understand every word, and he makes sure that every actor in his company understands every word that's coming out of their mouths. I think that's so important. The other thing I really love about him is his very musical ear. He's a huge jazz, opera, and classical music fan, so he really hears the musicality and the rhythms of different plays and playwrights, and he encourages you to do the same.

Other directors clearly have a lot to live up to. How does Moisés Kaufman measure up?
DS: Well, I don't know how much musicality there is in The Heiress. [Laughs.] Moisés is a wonderful director — so enthusiastic and brimming with ideas. His rehearsals were a very exciting place to be. He's a great listener who really champions this sort of laboratory of ideas, where all the actors have a voice and the freedom to experiment and try different things. This is a play you can really reconfigure in so many different ways: You can play Morris as an outright villain for sure, you can play Catherine's father as really hard, and you can play Catherine as a really stupid girl. I don't think they're any of those things, but we could certainly try levels of that in rehearsal, and that's really helped to create a truth in our production that we're comfortable with.

Jessica Chastain is also making her Broadway debut in The Heiress as Catherine. Were you familiar with her work before this?
DS: Yes, of course. She's very well known in the U.K. and her film work is very respected there. I was very, very excited to meet and work with her. I'd heard great things about her. In fact, she'd been over in the U.K. to film an adaptation of Agatha Christie's "Poirot" for English television. Funnily enough, she worked on that with Hugh Bonneville, who's in "Downton," and he spoke very highly of her. Her reputation certainly preceded her, and I was not disappointed. She's delightful.

During rehearsals I spoke to Jessica, who admitted to me that she sometimes gets distracted by your crystal blue eyes. Have you heard that a lot from your costars?
DS: [Laughs.] I'm gobsmacked. That's very sweet of her, but I don't know what to say to that. Yeah, I guess so.