STAGE TO SCREENS: Sutton Foster Talks About "Bunheads," a TV Series That Keeps Her On Her Toes



Photo by ABC Family/Andrew Eccles
*
Sutton Foster, who won the Best Actress Tony Award for Thoroughly Modern Millie and Anything Goes, exited the latter Broadway musical in the spring to begin shooting the new ABC Family series "Bunheads," the ten-episode first season of which is now airing at 9 PM (ET) on Mondays.
In "Bunheads," Foster plays Michelle Simms, a Las Vegas show dancer — no, not an exotic dancer — with roots on Broadway and in classical ballet, who finds herself at a crossroads. In her 30s now, Michelle looks in the mirror to see nothing but squandered potential, an unfocused career and no mate to call her own. Don't even mention the shabby motel-like apartment complex she lives in. Enter Hubbell Flowers (played by Alan Ruck), a passionate stage-door Johnny who sees her inner light and, over dinner, offers her a new life. Fresh from rejection for a job in the musical Chicago, Michelle drunkenly accepts his marriage proposal and is whisked off to his coastal California town of Paradise.
A fish out of water in a town that doesn't have a movie theatre — but has enough colorful characters to populate a Hollywood screwball comedy — Michelle bumps up against Hubbell's salty, quirky, Buddhist mother Fanny (played by "Gilmore Girls" alumna Kelly Bishop), and locals including Fanny's oddball pals (hello, Ellen Greene!), Hubbell's romantic rival (Stacey Oristano) and four teen girls (Kaitlyn Jenkins, Julia Goldani Telles, Bailey Buntain and Emma Dumont) who are dance students in Fanny's dance studio. (For the uninitiated, the title refers to women and girls in classical ballet who pull their long hair into a tight bun.)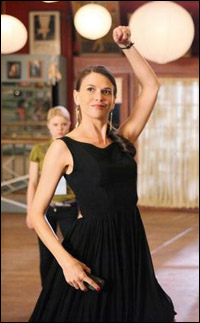 photo by Adam Taylor

The pilot episode showed Michelle bonding with the girls, introducing issues unique to each of them. It also had what seems to be the primary adult relationship in the series — Michelle and Fanny, each struggling with issues of identity and potential. When Hubbell is unexpectedly killed at the end of the first episode, the characters' lives are turned upside-down.

Owing to her busy schedule, Foster — who is working 10-to-12-hour days on the set in Los Angeles — answered Playbill.com's questions via email.

"Gilmore Girls" was not part of my viewing habit, but I have friends who say the series was life-changing for its warmth and humor — and how well creator Amy Sherman-Palladino wrote scenes of women talking to women (one of the strengths of "Bunheads"!). I gather that you were a fan of the series. What about it excited you?
Sutton Foster: "Gilmore" is one of my favorite shows of all time. I loved the rapid-fire dialogue and the complex relationships. "Bunheads" has that similar tone but with all new circumstances and characters. Saying Amy's dialogue and working with her and the writers is surreal. I also loved the fact that "Bunheads" revolves around dance and teaching — two things I know well and am passionate about.

How did you and Amy find each other, and what were the early conversations about "Bunheads" like?
SF: She had seen me in Anything Goes and we took a meeting. I was like a super-freak fan of her — I was so excited. She had been working on the pilot of "Bunheads" and thought I might be right for Michelle. I had no idea because at the time of our meeting ABC Family hadn't picked up the pilot, so she couldn't talk to me about it. About two weeks later she called my agent and asked if I'd come and read for the network. I flew out to L.A. on my day off — read for everyone — [and] they offered me the part and I cried. I shot the pilot in November and was so nervous but felt safe under Amy's hand.