STAGE TO SCREENS: "Sweeney Todd" Screenwriter John Logan Paints Broadway Red


*

"I was in a sanguinary mode," John Logan allows with a laugh, recalling the writing of his first play in ten years — Red, now at the Golden — a portrait of painter Mark Rothko. The color connects the master of 20th century abstract impressionism with the demon barber of 19th century Fleet Street because it came to him while adapting Sweeney Todd for the screen, helping Tim Burton slosh the blood about.

Fact is, red colors much of Logan's career. "I've had my share of splatter over the years — 'Any Given Sunday,' 'Gladiator,' 'Last Samurai' — but I think dramatists are naturally drawn to conflict. One of the great manifestations of conflict is physical action and violence. It's been an arrow in the quiver of the playwright since Aeschylus."

The screen's first "Coriolanus" is his next blood-Red Letter Day. "Nobody has wanted to film it. Everyone hates Coriolanus. It is certainly not a Shakespeare play to make Hollywood sit up and take notice. It has never been a favorite play in the canon, nor is it the play that a lot of people really get excited about, but those who love it, love it passionately — and, thankfully, that's both Ralph Fiennes and myself."

Fiennes will direct it this spring in Serbia and play the title role opposite Gerard Butler's Tullus Aufidius, Brian Cox's Menenius and Vanessa Redgrave's Volumnia.

Logan even made killings with his two earlier New York plays — 1985's Never the Sinner, about the thrill-killing of 14-year-old Bobby Franks by Richard Loeb and Nathan Leopold, and 1992's Hauptmann, about Bruno Hauptmann, who was executed for the kidnapping and murder of the Lindbergh baby. Between those Off-Broadway offerings and after, Logan has moved big-and-surefootedly through the Hollywood jungle and become a high-priced scripter who, to date, has earned two Oscar nominations (for "The Aviator" and "Gladiator") and the Writers Guild of America Award (for "RKO 281," about the making of "Citizen Kane"). On March 21, he contended for an Olivier Award for Red, which premiered in London with Alfred Molina and Eddie Redmayne. (Redmayne, playing the assistant to Molina's Rothko, took home an Olivier; Red — again with Molina and Redmayne — officially opens on Broadway April 1.)

Red catches abstract expressionist Rothko at the height of his powers, circa 1958, creating his dark red murals for the Four Seasons in the Seagram building.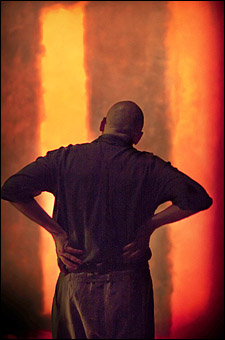 photo by Johan Persson

The paintings prompted the play. "We filmed 'Sweeney Todd' at Pinewood, so I was in London for months on end," Logan remembers. "I would walk about the city, and I went to the Tate Modern where, at that point, the Rothko Seagram paintings were. I just absolutely fell in love with them, and that's what led me to write the play. When I thought about the way the colors in the paintings vibrate back and forth, I thought it would be a great two-hander because it sorta represents and mirrors his work. Once I came up with the idea of Rothko and his assistant, everything fell into place.

"I'd never had any desire to write about an artist. I think that's a treacherous landscape. The danger is you either become pompous or you become superficial.

"I think biographies that try to cover an entire life are dramaturgically unsound, but to find the one instant or the one series of events in a person's life that might represent the entire life is compelling theatre. It just seemed to me the Seagram murals were so dramatic and such a landmark in his life that this was the way to explore the themes I thought were interesting, which really didn't have much to do with Mark Rothko. It had more to do with my feelings about art and theatre and mentors and fathers. Mark Rothko became the vessel for things I wanted to explore."