STAGE TO SCREENS: The Man from "House" Meets One of "The Defenders" in Born Yesterday



Photo by Joseph Marzullo/WENN
*

Jim Belushi and Robert Sean Leonard elected to spend their TV hiatuses this year escorting Nina Arianda through her Tony-nominated Broadway debut in Born Yesterday as Billie Dawn, the definitive dumb-blonde who introduced Judy Holliday to stardom — and the world —65 years ago.

A girl couldn't be in better hands than this Dawn patrol: Belushi as the junk-dealer tycoon, Harry Brock, who manhandles and exploits her; Leonard as the newsman, Paul Verrall, who sweet-talks and enlightens her, putting her wise to Harry's ways.

As originally designed and directed by Garson Kanin, both characters are very pronounced types at cross purposes, and he cast the roles accordingly with Paul Douglas and Gary Merrill, both of whom went immediately into movies as a result.

Douglas, an NBC sportscaster, was an accidental find for Kanin, who was watching him quarrel with the third of his five wives (actress Virginia Fields) at a diner in the bowels of Rockefeller Center when he hauled off and knocked her off the stool.

"There's your Harry Brock," declared Mrs. Kanin (actress Ruth Gordon). "But he's a radio announcer!" protested the playwright. "There's your Harry Brock," Gordon reiterated, and she was right. It was the slap that gave birth to a whole Hollywood career. Douglas went directly into "A Letter to Three Wives" and never looked back to Broadway, save for one return visit (for 4½ months of A Hole in the Head). That same year (1949), Merrill followed Douglas into a comfortable contract-life at 20th Century-Fox with "Twelve O'Clock High" and "All About Eve."

For today's Born Yesterday, the traffic runs from West to East and from small screen to stage. Leonard, a three-time Tony nominee and one-time winner (as the young A.E. Housman of Tom Stoppard's The Invention of Love), is making his first Broadway appearance since starting "House" seven seasons ago. Belushi just wrapped Season One of "The Defenders" on CBS in time to go into his first originated Broadway role. (Billed as James Belushi, he was a replacement Pirate King in The Pirates of Penzance in 1982, and then he followed Judd Hirsch into Conversations With My Father in 1993.)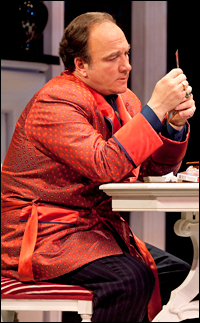 photo by Carol Rosegg
Not that Harry Brock came to him exactly as a stranger. He played the part in college when he was 19 — and played it so well that the acting bug took hold permanently.
"I don't even remember it," he confesses. "All I remember is making an entrance with my fly open — and, in those '40s-styled pants, the zipper was two feet long.
"And I remember the gin game, how well it went." The play's classic set-piece is a card game in which Brock is constantly being trumped and trounced by his not-so-dumb gal-pal. "It's a silent opera, that scene, and we have a ball doing it every night."
Nor has he forgotten the name of his collegiate Billie Dawn — Jenny Owens. "I got her to audition for Second City when I was starting out as an actor in Chicago, and she was very good, but she was so full of life. She's now a nurse in New Mexico."
Blunt and brutish are easy reaches for Belushi — and there are moments where he's the mirror image of Broderick Crawford in the movie — so it's not hard for him to rev up for Brock's warpath. For inspiration, he has tacked up on his dressing-room wall at the Cort a photo of Brando in full motorcycle gear for "The Wild One"; for more inspiration, there is a movie poster for "The Hustler." "That movie," he says, "has my favorite line of all-time: 'YOU OWE ME MONEY!' George C. Scott says it."
Harry Brock is saying it, too — wheeling and dealing under the table, cruising for corruptible senators, getting Billie to affix her mark to highly dubious documents.
"I like grabbing that role by the tail and driving," he admits. "It's pure aggression — unabashed, unapologetic, upfront. I love Harry because he doesn't hide anything. The big scene where he's trying to be polite with the senator is about as much hiding as he does. But you know who you're dealing with all the time. A friend of mine described it as, 'Omigod! Here comes the train, and I know it's going to crash.'"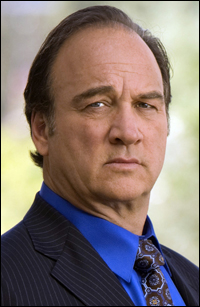 photo by Robert Voets/CBS
The crashing and burning will continue till July 31, when the limited run ends at the Cort. Leonard heads back West for an eighth season of "House," but Belushi will be scouring around for gainful employment. CBS opted not to go back for seconds with "The Defenders" 22 days into his Broadway run. A television-series vet, he can roll with that punch.
Come August, "I'm going to be sitting on my ass for a while. I'm developing a couple of things in TV, and I've got a couple of films I'm working on, but they're in the early stages." Already in the can, as it were, is The Cowardly Lion, which he voiced for "Dorothy of Oz," an animated feature that will star Lea Michele of "Glee."
He also does some promotion for Crystal Skull Vodka for pal Dan Aykroyd, who, with Belushi's late bro John, famously constituted "The Blues Brothers." The nifty thing about this vodka is that it comes in Crystal Skull-shaped glass-wear. Like Joan Crawford's well-placed Pepsi in "The Best of Everything," he shamelessly says, "It was right on my desk in 'The Defenders,' and, if I could get it on this set, I would."
"The Defenders" bore no resemblance to the same-named series of 1961-65. "CBS just owned the title and used it again. Ours had nothing to do with the other show. It was New York, it was E. G. Marshall, it was Robert Reed, and it was heavy."
The 21st-century reinvention of "The Defenders" was a pair of free-wheeling, very unbuttoned-down attorneys who ran a criminal law firm in Las Vegas.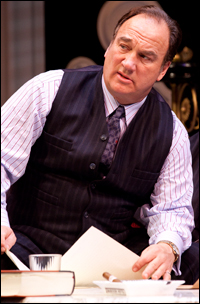 photo by Carol Rosegg
"They were based on two real lawyers in Sin City, Michael Cristalli and Marc Saggese. A little hour-long documentary was done on them. CBS bought the rights and wrote the script for me and Jerry O'Connell." Not only do the two actors vaguely resemble each other (enough to have a father-son thing going in a subsequent series, perhaps), they breezily played off of each other.
"It was just beautiful chemistry all the way around. We had a great chemistry with the writers, with the producers, everyone. It's a shame the series didn't continue."
His change-of-pace foray into theatre — outside the law, in the form-fitting role of Harry Brock — came off with equal conviction. Some have even called it the best of this year's unnominated performances — a compliment he gives a que sera, sera shrug. "I came in a crowded year. That's my luck. 'The Defenders' was a great show and I was on the top network, and the series still didn't go."
The instant gratification of theatre helps a lot, and, when we meet, he is coming from a matinee that went over especially well. "What is really satisfying about that performance is that the audience got it all. They got all the jokes, they got all the terror, they got the message. There was a little magic in the theatre today, and I'm a magic-hunter."