Stamina and Stardom: Newsies Dancers Work as One to Seize the Day



Photo by Deen van Meer
*

At every performance of Newsies, the 14 members of the ensemble don't just do high-flying leaps and midair somersaults. They also climb more than 50 flights of stairs. Some of those stairs are part of the set's three-tiered tower, which the ensemble members race up and down as part of the choreography. But they also have to navigate five flights of stairs to get to and from their dressing rooms, which are on the fifth floor of the elevator-less Nederlander Theatre.

"We need a high level of stamina," says Ryan Steele, in what amounts to an understatement.

"It's not just physically demanding, it's a whole lifestyle change. I've never been on stage with guys who are literally fighting for our lives," says Ephraim Sykes, in what one hopes is an overstatement.

Steele plays Specs and Sykes is Mush, two of the 19th-century newsboys who go on strike in the Disney musical inspired by a true story. Steele is also the Newsies dance captain — i.e., the choreographer's assistant responsible for keeping up the quality of the dancing from day to day and teaching the steps to any newcomers. But it's not just newcomers who must practice. Before every performance, all the newsboys rehearse the three fight scenes in the show to make sure nobody gets hurt.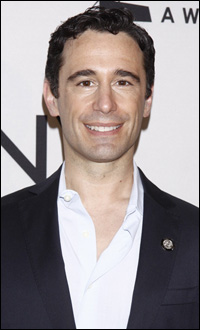 photo by Joseph Marzullo/WENN
If all this stair-climbing and practicing and leaping were not enough, the newsboys engage in one more daily activity rarely expected from a Broadway ensemble: After each performance, they sign autographs for the squealing fans who have lined up outside the theatre.
Most any Broadway veteran will tell you two things about ensembles: 1. They are the heart and muscle of a Broadway musical. 2. They do not get the recognition they deserve.
Christopher Gattelli sees that doubly for Newsies, the ninth show he has choreographed on Broadway and the first to win him a Tony Award. "A big part of my Tony is due to my collaboration with these performers," he says. "They are singing, dancing and acting at a level that is unparalleled."
Since there is no Tony Award for an ensemble, Gattelli says, "My dream was that they would have been able to have been nominated as 'The Newsies' for Best Featured Actor." That did not happen, but what has happened since the show opened in March is that an unusual amount of attention has been paid to ensemble members like Sykes and Steele.
Read Playbill.com's earlier Brief Encounter interview with Gattelli.