THE BOOK SHELF: A Chronicle of My Fair Lady and a Biography of Actor Brandon de Wilde


*

The word "scholarly" appears three times in the first two pages of Dominic McHugh's explanatory preface to Loverly: The Life & Times of My Fair Lady [Oxford], and the first paragraph of the book proper cites Ovid, Dryden, Goethe, Rodin, Goya, William Morris (the 19th century designer/writer, not the theatrical agent), Shelley, Rameau, Cherubini, Donizetti and even Kurt Weill before it gets to George Bernard Shaw.

And there, in a way, is the gist of it. If you want a scholarly account of the creation of Lerner & Loewe's My Fair Lady, here it is. McHugh seems to have developed this book from his doctoral thesis at King's College, London. While I don't have much experience with doctoral theses, I suppose this made a fine one. As a book about a scintillatingly deft piece of musical theatre, though, it is — shall we say — drily academic.

McHugh has done a protean job digging through archival material, in this case being mostly the office files of producer Herman Levin at the Wisconsin Historical Society and the extensive musical holdings at the Music Division of the Library of Congress. He has also plumbed other collections — including those of the Theatre Guild — to piece together the pre-My Fair Lady attempts at musicalizing Shaw's "Pygmalion." And, just as importantly, the battles to secure the rights to the same.

This last makes a fascinating tale, if you are keen on such things (as I am); if not, though, you might have trouble keeping the various parties and the numerous developments straight. (Somehow or other, the ultimate resolution — with Levin as the surprising winner of the rights — is tied up with Li'l Abner, and don't ask me to explain how without rereading the thing.) Highly interesting to those of us who have worked in theatrical producing and management — as is the disposition of the original London stage rights — but little to do with the musical itself.

McHugh spends much energy comparing what he finds in the files with what Lerner wrote in his autobiography, "The Street Where I Live." He piles on documentary evidence proving that things didn't take place the way Lerner says, or when Lerner says, or why Lerner says. Dozens of instances, all meticulously proven. But Lerner's aim in 1978 was to be entertaining and witty, and I expect to earn some money after five consecutive flop musicals. What's more, he was writing 20 years after the facts, at the age of 60, and after who knows how many years of "health injections" that turned out to be amphetamines. To these errors and exaggerations by Lerner I say, okay. But what of it? How important are these details? How much do they add to our understanding of My Fair Lady?

There is, similarly, in-depth discussion about changes in the script, changes in the dialogue, changes in lyrics, and changes in music. McHugh pores over outlines and scripts, comparing them all to each other and to the dramatic and cinematic versions of "Pygmalion." He also goes through countless musical manuscripts — sketches, piano-vocal scores, rehearsal scores, full orchestral scores — and tries to piece together which was written when, why this one is in Loewe's hand and that one is in Trude Rittman's hand, and what is the overall significance of this, that or the other. Scholarly, yes, but I suspect of limited interest — and in cases indecipherable — to most readers. Take a sentence like "it is intriguing that Bennett's orchestration of this section follows Rittmann [sic] in writing the bass part as a D-flat major arpeggio (a false relation) rather than its enharmonic, C-sharp major, as in Loewe's manuscript (again, probably a fair copy)." Intriguing to you, maybe.

There are 74 pages of this. And oddly enough for a scholarly tome, the author misspells "Rittman" throughout the book. (Trude Rittman was a rehearsal pianist whom Agnes de Mille discovered in the ballet world and set to work on One Touch of Venus and Carousel. She was one of the best in the business, as attested to by the powerful incidental music in the "Twin Soliloquies" and "Younger Than Springtime" scenes of South Pacific; "The Small House of Uncle Thomas" ballet in The King and I; and the extended music lesson within the "Do Re Mi" number in The Sound of Music. Loewe, Rittman and My Fair Lady conductor Franz Allers were close buddies; Trude called Loewe "Fritzie.")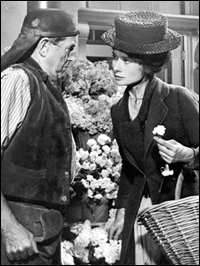 Warner Bros.
My biggest question, though, is why McHugh insists on so much theorizing. Why doesn't he just ask? I understand how an overseas college student writing a dissertation might be limited in resources and in what is practical; a major book from a major publisher is something else again. Any number of questions about the creation of the role of Eliza might well have been answered by Julie Andrews. Perhaps she was unwilling to speak or correspond with the author; if so, he could and should have mentioned this. Even more information — and not mere guesswork or gossip — remains readily available from production stage manager Biff Liff (who is still active today). Liff worked for Levin from 1946 through 1962, so he could enlighten us not only on the writing and the production of My Fair Lady but on Levin's initial struggle for the rights. The other stage manager, Jerry Adler, has a different sort of intimate Fair Lady knowledge: he directed the 20th anniversary Broadway production, working with Levin, Lerner and Loewe and utilizing the original staging, choreography and designs. Adler, too, is still around albeit in Hollywood; after decades on and around Broadway, he became a much-in-demand character actor back in the early 1990s.
McHugh spends no less than 16 full pages discussing a 15-minute sequence at the end of the first act, which was immediately cut during the New Haven tryout. This included Eliza's solo as she prepared for the ball, "Say a Prayer for Me Tonight" (which resurfaced in Gigi); a full-scale "Dress Ballet"; and "Come to the Ball," with which Higgins sweeps Eliza off to the Embassy. What was all this? What, precisely, happened in the ballet? Why was it cut? Was the sequence any good? We get all sorts of guesses, as McHugh industriously tries to piece things together using scraps found in the archives like a page of preliminary notes from choreographer Hanya Holm suggesting required costume pieces for the dancers. But why, if he's attempting the definitive book on My Fair Lady, didn't he just ask Biff?
My Fair Lady has gone down in the annals as one of Broadway's all-time greats, setting a record for long-running musicals. (It broke the mark set by the 1943 Oklahoma!, being surpassed in turn by the 1964 Hello, Dolly!). But My Fair Lady was neither artistically groundbreaking nor overly influential; it was simply an impeccable musical of its time. Nowadays, when 1950s musicals like Guys and Dolls, The King and I, and Gypsy enjoy repeated high-profile productions, My Fair Lady is relatively ignored. Which leads one to wonder just how interested today's readers are in how and why Lerner & Loewe tinkered with Shaw's Higgins & Eliza a half century ago.
Passionate about theatre books? See what the Playbill Store has on its shelves.