The Musical Mystery of Edwin Drood Deepens in a New Broadway Staging


*

Only once did Charles Dickens let the reader down. On June 8, 1870, the 58-year-old writer put in a full day's work on "The Mystery of Edwin Drood," suffered a stroke and had the temerity to die the next day, taking the identity of who did it to his grave.

Since then, there has been a lot of conjecture, elementary deductions and downright grave-robbing by people trying to resolve this cold case. Solutions have been paraded in print, on radio, in film, on TV and in a stage musical.

The show that Rupert Holmes has mischievously advanced in the latter medium (now getting a Broadway revival by Roundabout Theatre Company) may well be the most even-handed of the lot: He leaves the unmasking to the audience. Four or five songs into Act Two — right in the middle of the aptly titled and quite literal showstopper "Don't Quit While You're Ahead" — the action comes to a complete halt, and an announcement is gravely made: "Ladies and gentlemen, it was at this point in our story that Mr. Charles Dickens laid down his pen forever."

The audience then sifts through the evidence and picks the killer of the title character (played by Stephanie J. Block in drag). Was it his fiancée, Rosa Bud (Betsy Wolfe)? Others who lusted after her: swain Neville Landless (Andy Karl) or choirmaster John Jasper (Will Chase)? Landless' twin sister, Helena (Jessie Mueller)? Opium den proprietress, Princess Puffer (Chita Rivera)? The mayor (Jim Norton)? The reverend (Gregg Edelman)? You decide.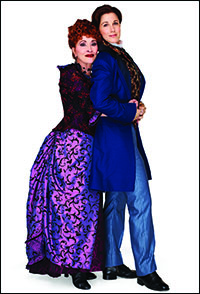 photo by Andrew Eccles

Broadway's go-to guy for shows with whodunit concerns (Curtains, Accomplice, Solitary Confinement), Holmes always loved a mystery. "They were the only books I read where the heroes wore glasses, and it was such a curse to wear glasses back then," he offers as an explanation. When he was eight, he reached for "The Mystery of Edwin Drood" on the family bookshelf, and his father said, "That's not a mystery as you know it. It's more of a gothic story — and Dickens never lived to finish it."

"The idea of an unfinished book fascinated me," Holmes admits. "Immediately, I turned to the last page, which broke off with an em dash [—] in mid-sentence. From that day on, it haunted me. I bought a copy at a train station in 1971, gave it a read, thought it would make an interesting musical and started writing it — there are still a few little fragments of music from that first attempt — but I set it aside until 1983."

That year, he was doing an act of comedy and music at Dangerfield's and, one night, got a note backstage from Gail Merrifield Papp saying, "Have you ever thought of writing a musical? If so, we should talk." The next day, he was in her office talking about Drood.

"When she asked how we would conclude it, I said the most theatrical concept would be for the audience to decide from a variety of endings. We walked into Joe Papp's office, told him the same thing, and he encouraged me to write it."