THE "SMASH" REPORT: Episode 7, Or, Mother May I?



Photo by Eric Liebowitz/NBC
*
Mothers and musicals. They are not easy, especially when mixed up together. Have you met Rose from Gypsy? Have you met the Witch from Into the Woods? Have you met crazy Sally Durant in Follies? They are all seriously complicated. And so it is with Leigh Conroy (played by guest star Bernadette Peters, the two-time Tony Award winner, who has played all of the above roles) on TV's "Smash." In Episode 7, she pops up in New York just in time to attend the workshop presentation of Marilyn the Musical, which will feature her blonde daughter Ivy (Megan Hilty) as the tragic blonde Marilyn Monroe. Narcissistic Leigh cannot resist slipping into a rehearsal to steal some focus away from Ivy, thrilling the creative team and the chorus kids. At the insistence of the gypsies (one of whom saw Leigh in Gypsy at Connecticut's Westport Country Playhouse maybe 15 years ago), Leigh gladly sings Gypsy's "Everything's Coming Up Roses," complete with judicious trims, accompanied by composer Tom (Christian Borle), who knows the accompaniment (and apparently Leigh's key) by heart. Singing the song to her daughter is a creepy and uncomfortable parallel to the Rose/Gypsy Rose relationship in the essential musical by Arthur Laurents, Stephen Sondheim and Jule Styne. Mama has just hijacked her daughter's room, and it's one of several plot points putting pressure on Ivy in this hour.
By the way, if you are reading this and you are 16 years old and you live in Pocatello, Idaho, and you love "Smash" but you've never heard of Gypsy, you must stop reading this column right now and get the original cast album (Sony's MasterworksBroadway.com is a good place to start for information, and you'll also find it at playbillstore.com) — or you might even try the 2003 revival cast album that featured Bernadette Peters as voracious stage mother Rose.
On "Smash," Leigh Conroy is not a stage mother, but a Tony-winning Broadway star who is wildly uneasy with her daughter's career. Competitive? You bet. Like the best of "Smash" creator Theresa Rebeck's characters, her behavior is complex: Is she envious of her daughter's ascendance? Is she stingy with praise because it reduces her own sense of self? Is she cruel or protective? Is she a witch? We know she is supernaturally gifted: She can sing "Everything's Coming Up Roses" on command at 10 AM without warming up.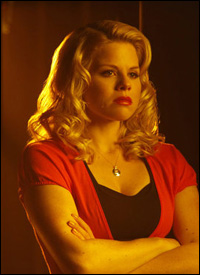 photo by Eric Liebowitz/NBC

The ultra perceptive, industry-savvy director-choreographer Derek (Jack Davenport) says to Ivy: "You never told me your mother was Leigh Conroy." This is different than saying, "I didn't know your mother was Leigh Conroy," leaving it open to assume Derek knows exactly who Ivy's mom is, but he knew enough not to bring it up all these weeks. Right?

Ivy and Leigh make a kind of peace by the end of the episode (Mama admits she has hated seeing less talented people surpass her daughter, and calls her a star), but not before substance-sensitive Ivy pops a sleeping pill on top of the steroids that she's on. (Leigh won her Tony — for an unnamed show — without the help of pills, she tells her daughter.) Thanks, Mom.

Some highlights of (and comments about) Episode 7:

FICKLE FRIENDS: Those chorus kids Jessica, Dennis, Bobby, and the rest, are changeable as weather. First, they're on the side of rising-star Ivy, then they take pity and side with Karen (Katharine McPhee) and advise her on how to succeed in the workshop world. When Karen gets an appointment with powerful record producer Bobby Raskin (yet to be seen), who has arranged studio time and an engineer for her to cut a demo ("Brighter Than the Sun," the Colbie Caillat pop song), the workshop gang tells her that she should quit the workshop and take the pop meeting. Look, they say, you're only getting $200 a week for the workshop and this musical isn't a sure thing. "No one will hold it against you," they say. This glib statement is some of the worst advice in theatre history, and seems inconsistent with what has been (or should be) in the heart of every artist working on Marilyn the Musical (or any other piece of art, commercial or otherwise): the unstoppable hope that their artistry will find the light of day and reward their souls, feed their bank accounts and fuel a future. In the real world, who would hold it against you for quitting a $200,000, four-week workshop the day before potential backers come see it? Everyone would hold it against you: the producer, the writers, the casting director, the director, the choreographer and, perhaps especially, the very ensemble members who said she should quit. The burden would be on the chorus to fill in the gaps of an already lean experience. That Karen rejects their advice and sticks with the workshop proves her class and loyalty. We've decided that bad karma will keep Jessica, Bobby, et al, in the chorus for a long time to come.