Watching Paint Dry: How Playwrights Turn Art-Making Into High Drama



Photo by Joseph Marzullo/WENN
*

Imagine a painter on a stage, dabbing at a canvas. Then imagine another character entering, and the two of them talk about painting for a while.

Bored yet?

Plays about artists and the process of making art should be, in theory, about as exciting as, well, watching paint dry. After all, what's more static, and less dramatic, than a picture hanging on the wall? And yet, art-and-artist-centric plays continue to grace stages, and frequently are hailed as among the best dramas of their respective seasons, from Stephen Sondheim and James Lapine's Pulitzer Prize-winning Sunday in the Park With George to Yasmina Reza's Tony Award-winning Art, from John Logan's Red of last season, which won the 2010 Best Play Tony, to this season's praised London import The Pitmen Painters by Lee Hall. How are these writers pulling off this bit of alchemy — transforming painstaking craft and dense theory into crackling drama?

Logan, for one, knew what he was getting into when he decided to write a play about Mark Rothko's 1950s commission to paint a group of murals for the Four Seasons restaurant in midtown Manhattan. He saw his challenges as two-fold. "First, how to represent authentically, and yet artistically, another art form on stage without overrelying on metaphor," he said. "And, number two, how do you have people talk about art seriously in a way that is not pompous, but is dramatically relevant."
photo by Aubrey Reuben
Lapine also saw the danger of his characters possibly sounding pretentious. (It's hard to talk art theory and not sound pretentious.) But he didn't see the difficulty as much different from any other topic he might tackle as a playwright. "That's just any kind of playwriting," he explained. "You could be talking about science. If you don't do it in the right way it could be boring and pretentious, too. I don't think it has to do with it being about art. It's about taking any complex and subtle subject and making it dramatic on the stage."
Logan eventually found a way to have Rothko — whom he said was "a man given to pontification and amazing arias on the theory of art" — naturally discuss art by introducing a second character, an assistant named Ken. "I decided to write a two-hander about a kind of father and son. There's a perfect opportunity for him to pedagogical."
Hall, conversely, actually found the dramatic heart of his play in the very talk of art itself. "I guess that I realized that it was going to be very hard," he said of creating a lively stagework in The Pitmen Painters, which is based on a true movement that transformed miners from the north of England into artists in the 1930s and 1940s. "And then I realized the form they learned in — the form of a lecture with slides — was actually very dramatic in itself. It is static, people looking at something...[but] where the drama is, is in the drama of ideas, and people arguing between each other. The act of analyzing individual paintings was actually a very interesting and dramatic form. It wasn't melodrama, and it wasn't knockabout. Actually, it was about what drama is fundamentally about, which is about people struggling to articulate something."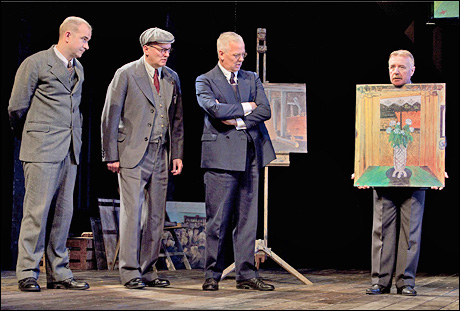 photo by Joan Marcus