What Rock Albums Would the American Idiot Gang Take to a Desert Island?



Photo by Paul Kolnik
Let us assume that on this desert island you also have a music player with a lifetime battery, to say nothing of endless fresh drinking water, plenty of coconuts and some kind of shelter. What recordings from the rock world would feed your soul until the end of your days?
We put a handful of American Idiot rockers on the spot, giving a limit of, say, three albums. (No fair choosing a Green Day title!)
*
"That's a great question," Rebecca Naomi Jones, who plays Whatshername in American Idiot, said, pondering the question alongside John Gallagher, Jr., who plays Johnny, a.k.a. Jesus of Suburbia.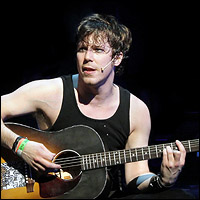 photo by Paul Kolnik

Gallagher — himself a guitarist and a rock band member over the years — scratched his chin, and added, "That's a really good question. Oh, gosh. Probably some records from The Band, maybe like 'Music From Big Pink.' [The Beatles'] 'The White Album.' Maybe 'Blood on the Tracks' by Bob Dylan. Those are some of the things I listen to a lot, over and over again."

Jones said, "I would do 'Joni Mitchell: For the Roses.' I would take — I know it's an easy choice, but 'Rubber Soul' [by The Beatles]. I would probably take, I don't know, maybe even some Simon and Garfunkel. I sound like such a hippie! Ooooh, some Crosby, Stills, Nash and Young! But definitely lots of Joni."

Interviewed separately (except for Jones and Gallagher), the performers did have common passions.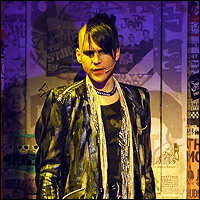 photo by Paul Kolnik

Tony Vincent, who plays the blood-chilling St. Jimmy in American Idiot also chose the double-disc "White Album" by The Beatles, especially picking out the John Lennon song "Dear Prudence."

Vincent called Radiohead's "OK Computer" "one of the most sonically epic and well-written rock records ever."

His third pick is Jeff Buckley's "Grace," which includes a song that "kills" the actor —"Lover, You Should've Come Over." Vincent said, "Every time I listen to this record it rips my heart out and reminds me that I'm human, vulnerable — a hopeless romantic to the core."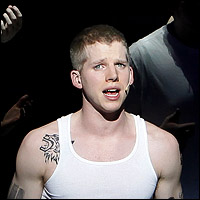 photo by Paul Kolnik

Stark Sands, who plays Tunny in American Idiot, is tuned to the same station as Vincent: the late Buckley's "Grace" is on his list, too.

Sands called "Grace" "one of the most beautiful and heartbreaking albums of all time. His voice was just unbelievable — so much passion and emotion."

Of The Beatles' "Revolver," Sands said, "In college, they actually offered a class all about The Beatles, and two of my friends got to take it. Every week we would all go to their apartment after the class and they'd relay all the stories they'd learned as we listened to the songs. That's where it started for me."

Sands picked the 1999 album "Clarity" by the emo rock band Jimmy Eat World. "Let me be clear," Sands said, "this is the band before any mega-success, before they became the toast of the town and had MTV hits. None of the tweeners probably even know this album, and it's a shame. Jim's songwriting is poignant and inspiring, and I never tire of listening to it."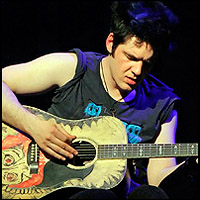 photo by Paul Kolnik

Michael Esper, who plays Will in American Idiot, picked "The Velvet Underground & Nico." He said, "I kind of can't believe this record exists. After hundreds of listens it still unfolds in strange and beautiful new ways each time I hear it. As literary and glacial as it
is blood-filled and honest — both pop and experimental — it reverberates all up and down the history of recorded music. A dirty gorgeous
masterpiece."

Esper admitted that he stretched the rules of the challenge with his next pick: "Keep an Eye On the Sky" by Big Star. "O.K.," he said. "So, I'm just cheating now. This is a box set. But the idea of living
without songs on any one of their three early records is too terrible to contemplate. No 'Thirteen'? No 'Nighttime'? No 'September Gurls'?
Impossible."

The group's lead singer Alex Chilton died March 17 of a heart attack. "Alex Chilton," Esper said, "we miss you."

Esper's No. 3 is "Love & Curses" by Reigning Sound. "Looking for something to live for? This record came out in 2009, and I 
already can't live without it. Ex-Oblivion, ex-compulsive gambler Greg Cartwright is one of the greatest songwriters alive. Memphis
garage soul for the desperate huge-hearted."