Woody Harrelson Adds Playwright-Director to His List of Life's Roles



Photo by Joseph Marzullo/WENN
*
In the 95-degree heat, Woody Harrelson slides back into a lawn chair, puts his bare feet up and takes a sip of water. No, Harrelson is not relaxing at home with his wife and children in Hawaii. He's in the rehearsal room at the Snapple Theatre Center, directing Bullet for Adolf, a sharp-tongued comedy on race, trust and friendship he also co-wrote. The play opens at Off-Broadway's New World Stages on Aug. 8 following previews from July 19.
The room is stifling because it's a mid-July heat wave and Woody — he's one of those rare movie stars who is so friendly and low-key it seems too formal to call him by his last name — doesn't like air-conditioning. He assuages the cast by reminding them that the play is set in Houston "where it's always this hot." The chair, meanwhile, is part of the set and has been giving one of the actors trouble. In life, the serene star doesn't sweat the details but as a director "I find myself being interested in everything."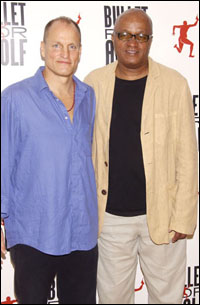 photo by Joseph Marzullo/WENN

Forever beloved as Woody from "Cheers," he evolved into a movie star tackling riveting roles from "Natural Born Killers" to "Ramparts." But he never lost his school-age love for theatre that led him to a Broadway understudy role in Biloxi Blues before he was cast in "Cheers."

As his career took off, he wrote a basketball drama called 2 on 2 and starred in new works like Boys Next Door and classics like Edward Albee's Zoo Story. In 1999, he returned to Broadway to star in The Rainmaker and soon after starred with Sean Penn and Nick Nolte in San Francisco in Sam Shepard's The Late Henry Moss and twice in London's West End, including Night of the Iguana. He also directed Kenneth Lonergan's This Is Our Youth in Toronto.

But he always wanted to tell the story of that summer working construction in Houston in 1983. There, the Texas-born, Ohio-raised Woody became friends and roommates with Frankie Hyman, who came from Harlem and says, "I hadn't had white friends and Woody hadn't had any black friends."

Woody couldn't tell the Houston story without Hyman. "He's brilliant and has a terrific sense of humor," he says. Yet they lost touch once Woody went west. From Hollywood he hired a private investigator who hit dead ends. Finally, he "put a shout out" on the "Tonight Show."

Hyman's brother, who hadn't believed Hyman's proclamation of friendship with this celebrity, happened to be watching. "He called me up and said, 'I think that Woody you say you're friends with just mentioned your name,'" Hyman recalls.