DIVA TALK: Chatting with Spamalot's Merle Dandridge Plus Betty Buckley at Birdland



Cindy Johnson
MERLE DANDRIDGE
The Broadway production of the 2005 Tony Award winner for Best Musical, Monty Python's Spamalot, has a new Lady of the Lake: Merle Dandridge, who recently stepped into the role that was originated to Tony-winning effect by "Grey's Anatomy" star Sara Ramirez. The select few who have also played the comical and vocally challenging role include British actress Hannah Waddingham, Vanities star Lauren Kennedy and, most recently, three-time Tony nominee Marin Mazzie. Dandridge, who created the role of Kala in the short-lived Disney musical Tarzan and has also been seen on Broadway in Jesus Christ Superstar, Aida and Rent, is currently scheduled to stay with the acclaimed musical at the Shubert Theatre through March 2009. I recently chatted with the gifted performer, who spoke about her current role, her work on stage and screen and her Rent memories; that interview follows.
Question: How did the role of Lady of the Lake come about for you?
Merle Dandridge: Actually, I had auditioned way back, I believe, in 2005. I don't know where they were at in the process, but I had gotten down to the wire about it, and Tarzan came about at the same time, so I had the choice to originate [a role]. . . . They were very interested, so we just stayed in touch all these years, and finally it's coming to fruition, which is exciting!
Question: Are you enjoying playing the role?
Dandridge: Are you kidding me? I'm having a blast! . . . It's so much fun. I get to be a stupid as I want to be, and it's celebrated. [Laughs.]
Question: I know sometimes when you replace, you don't often get that much rehearsal time. What was the rehearsal process like for Spamalot?
Dandridge: I had two weeks of rehearsal, which I think is pretty standard these days. It was fun — I have to say, it was probably the most fun I've had in rehearsal.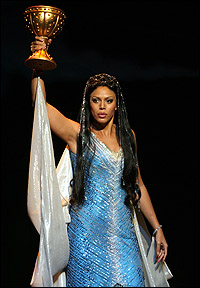 photo by Joan Marcus

Question: Who guided you through rehearsal?
Dandridge: Scott Taylor and then, of course, B.T. [McNicholl], the directing associate, and then Mike [Nichols] put his stamp of approval on me at my put-in.

Question: So, Nichols is still involved with the production?
Dandridge: He's very involved. I see him a lot. He's been very generous to me and very encouraging, so it makes me feel better about what I'm doing.

Question: Did he have any comments that were especially useful?
Dandridge: He didn't have that much to say, except that I was doing exactly what he wanted — that everything I was doing was coming from a truthful place and that my range of vocal ability was exactly what he wanted. He said to just keep playing.

Question: Do you have a favorite moment in the show for your character?
Dandridge: All of them! But "Camelot" is especially fun. I feel like a 12-year-old dancing in front of the mirror. It's true playtime. So, I like to change it up every show to keep it interesting.

Question: Why do you think the show has been such a crowd favorite?
Dandridge: Monty Python has such a huge following...myself included. I fell in love with the show when I first saw it. It's fast, it's smart and the work is genuinely good.

Question: I know that Clay Aiken recently returned to the cast. Have you noticed a difference in audience reaction?
Dandridge: It's a huge difference! It's very funny because the center of action can be happening on one side of the stage, but you'll see a sea of heads looking in the opposite direction. [Laughs.] They're very excited to have him back. He's such a sweet, sweet person and obviously so talented. We're really lucky to have him.

Question: Since we haven't spoken before, I want to go back a bit. Where were you born and raised?
Dandridge: I was born in Japan, and then we went to Korea, and I was raised in Nebraska.

Question: When did you start performing?
Dandridge: When I was trying to figure out what my elective was going to be [in high school], a friend who was a year older than me said, "Take drama, it's easy." . . . All the kids who were in the drama department, all the cool drama kids, were going to the International Thespian Festival, so I went one summer with my best friend and got a full ride to school. So it kind of fell on me. Then I went to school in Chicago [Roosevelt College] and just started studying it. [Laughs.]

Question: So it was at that time when you really started…
Dandridge: I figured, if somebody was going to invest in me, I had better invest in myself. I worked really hard in college, and I came out a completely different person and performer than when I went in. I did the work, and I found a craft.

Question: Did you always sing, or was that something that came later?
Dandridge: I did sing in choir, but I wasn't really "the one." . . . It was all a later development.

Question: When do you think you knew that performing would be your career?
Dandridge: I remember one day in my sophomore year, a bunch of my friends pushed me to skip Theatre History and go to a Miss Saigon open call. All the other girls were so much more talented than me, had so much more experience, and they dragged me. I remember meeting [casting director] Vinnie Liff, and he was so encouraging and so excited about what I did. I went so far in that process that I thought, "Oh my goodness, somebody from New York City thinks I have the ability!" That was kind of my first inkling that maybe this might be something. I think it was maybe the next year that [casting director] Bernie Telsey came to Chicago with the first open call of Rent. I think, out of 800 people, he brought four of us out to New York, and that was my first time seeing a Broadway show. Bernie was kind of the catalyst to really get me here.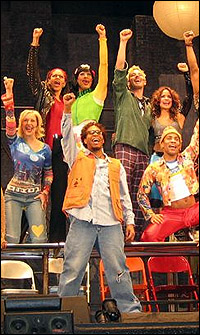 photo by Joan Marcus

Question: Do you remember what your thoughts were the first time seeing a show in New York?
Dandridge: It completely knocked me over. It hit me in a place that I didn't know I could be touched so deeply. I also didn't previously feel like I had a real outlet to express who I am or what's stirring inside. So when I locked in with that and saw the manifestation of all those little bits of myself that I don't think that I had ever touched into — on a huge stage like that in a piece that talked about my generation — it was clearly life-changing.

Question: Was Rent also the first Broadway show that you were in?
Dandridge: No, that was Jesus Christ Superstar in 2000. I think Rent was my third Broadway show.

Question: Do you remember your first night on a Broadway stage in Jesus Christ Superstar?
Dandridge: Oh, my God. I remember Paul Kandel telling me when we were in the rehearsal room — he was our King Herod, and he said, "I don't want you to let this moment pass you by. Remember that first time you walk through the stage door. Remember the first time you step on that Broadway stage. Take it in. Take a picture in your head." That was a great piece of advice because it was thrilling. When it was the Ford Center, walking through those doors for the first time and feeling this sense of privilege, of "I have arrived." I was understudying Mary Magdalene, and I vividly remember the first time I went on as a leading role. I remember standing center stage during "I Don't Know How to Love Him" in a beautiful, long red dress, just feeling so naturally myself, my arms opened wide and just — I don't even know how to describe it — sharing myself fully with the people who were there.

Question: When you finally got into the cast of Rent, was that a surreal experience, since it was the first show you had seen?
Dandridge: Now that it's been six years since I first went into Rent, and I have come and gone probably five times in that show… so much of my professional life and so much of my professional family was in the Nederlander [Theatre]. But joining that cast for the first time, I was like, "Finally, this is what I wanted. This is it!" [Laughs.] To have such great friendships with the people who created it and were a part of it from the genesis and to know [late Rent creator Jonathan Larson's father] Al Larson as I do now, and to have such a great friendship with [director] Michael Greif, it feels like I've come full circle.

Question: What were your thoughts about the show finally ending its run a few weeks ago?
Dandridge: Oh gosh. Well, you know, I went to go see the Rent movie screening last night.

Question: How was that?
Dandridge: It's tremendous. I felt like it captured every feeling that I've ever had on that stage. Kudos to the filmmakers because they really got it. They got what it was about, and they captured everything and even took it a step further. We're all so happy because it's a celebration of everything that our whole family [experienced] — thousands of people have played these roles in the past 12 years. I think this piece really captured it, so I'm so excited about that... I wasn't able to go to the actual show because I had a show, but I went to the party. It was extremely overwhelming. You couldn't even take it in. You saw the faces of so many people who have meant so much to you and who you've shared so much of your life with in such a small amount of time, all going through the same kind of thing. The legacy won't die, but the immediacy of having a building to go to see each other — our home is going away.