DIVA TALK: Chatting with Guys and Dolls' Kate Jennings Grant Plus News of Prince and Ripley


KATE JENNINGS GRANT
Although Kate Jennings Grant has appeared on Broadway in the Tony and Pulitzer Prize-winning Proof and the late Wendy Wasserstein's An American Daughter, the current revival of Frank Loesser's Guys and Dolls at the newly refurbished Nederlander Theatre marks the singing actress' musical theatre debut on The Great White Way. And, Grant is making her Broadway musical debut in a starry cast, one that also boasts multiple Emmy nominee Olivier Platt (also a Tony nominee for Shining City) as Nathan Detroit, "Gilmore Girls" star Lauren Graham as Miss Adelaide and stage and screen star Craig Bierko (Tony nominee for The Music Man) as Sky Masterson, the love interest of Grant's Sarah Brown. Directed by Des McAnuff with choreography by Sergio Trujillo — the same pair responsible for the Tony-winning exploration of the lives and careers of Frankie Valli and the Four Seasons, Jersey Boys — Guys and Dolls will officially open at the Nederlander March 1. Last week I had the pleasure of chatting with Grant, who can also be seen in the film version of the Broadway hit Frost/Nixon and who says her current Broadway role leaves her feeling like a kid in a candy store. My interview with the charming actress, who sprinkles her conversation with much laughter, follows.
Question: How did the role of Sarah Brown come about for you?
Kate Jennings Grant: I got a very sudden call saying, "I know that there's no notice of this audition, and it's very last minute, but can you come in tomorrow morning?" It was a 6 PM surprising call. It was probably the best thing that could have happened because I didn't have time to really panic or overly prepare and try to be perfect. I kind of stormed in the next morning and read some scenes. They said, "Do you happen to know any of the songs from the show?" which I fortunately did. They let me just have fun and fumble my way through things. Des [McAnuff] was incredibly supportive and enthusiastic, and then things happened very quickly.
Question: When was that audition?
Grant: That was, gosh, back in November.
Question: Did you have a callback after that?
Grant: I did have a callback, again, with almost no notice. [Laughs.] . . . [Music director] Ted Sperling couldn't be at my original audition, so they said, "Would you go and meet with Ted?" I had to be out of town the day that Ted was available, and they said, "Well, can you come in today at five o'clock?" I think it was noon, [and they said], "And can you sing, basically, the score of Guys and Dolls?" [Laughs.] I remember where I was standing when I got that phone call, and I thought, "Okay, here we go!" And again, no time to panic. You just had to frantically prepare and go in.
Question: What was the rehearsal process like? What was it like working with Des McAnuff?
Grant: Des is incredible because he's a director who really takes his time to give you support and tell you what's working and to walk across the room at the end of rehearsal and say, "That was a fantastic scene today" or "What you did there was great, go further in that direction." He never really lets you go off track, and he does it in a very positive way. He's got this incredible energy and passion for his job. He's somebody who really loves what he does and loves to come to work, and it's contagious.
Question: How are previews going so far?
Grant: It's thrilling! I'm still shocked that I get to play this part in this show. I sort of walk into the theatre every day like a kid in a candy store. I'm incredibly grateful and incredibly honored, so that informs how I approach everything in the show. My parents came to see it last weekend, so that was thrilling, and the audience has been incredible. I think my favorite part of doing the show so far is the children that wait afterwards, from all around the country, who are playing Nathan Detroit and Sarah Brown in schools across America. It's such an American legacy this piece. There was one little five-year-old girl who was playing Big Jule. [Laughs.] The most adorable, angelic child, and she says, "I'm Big Jule!" It just cracked me up.
Question: This is your first Broadway musical?
Grant: Yes.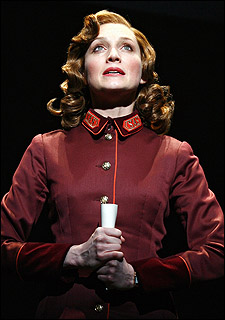 photo by Carol Rosegg

Question: Have you done other musicals elsewhere?
Grant: I have. I was in a few of the musicals that were supposed to come to Broadway: Finian's Rainbow that Lonny Price directed with Brian Murray and Denis O'Hare. We went out of town with that, and it didn't come in. My first job out of school, actually, out of Juilliard — two weeks after I graduated — [I was] in Applause as Eve Harrington with Stefanie Powers in a slightly ill-fated production. So there was that, and then I did Summer of '42 Off-Broadway, which was wonderful. The last musical I did was Radiant Baby, so I hadn't really sung in public in four or five years when I got that 6 PM phone call! [Laughs.] As soon as I got the part, I called my old singing teacher [Candice Goetz] and said, "We have an emergency," and she put me into vocal boot camp, which has been wonderful and hopefully has paid off.

Question: How do you find the demands of doing a musical versus doing a play eight times a week?
Grant: Oh, my gosh. It's just a different set of muscles. It's the most thrilling thing to stand onstage and sing and do a musical, and [it's] twice as exhausting as anything else I've ever done. It really is a marathon. I'm actually lying in bed as we're having this phone call right now! [Laughs.] I haven't quite made it [out of bed yet]. Everything else has to fall by the wayside while you get this on its feet.

Question: How would you describe Sarah Brown?
Grant: Sarah Brown is a woman of great faith and, unbeknownst to many others, great passion. It's fun to see how both of those things collide and erupt during the show when she runs into her destiny, Sky Masterson. A lot of people consider her uptight or a prude. There are these one-word descriptions of Sarah and, to me, she just seems like a wonderful, complicated woman who is trying to juggle work and love. [Laughs.] Actually, Sarah Brown was the first part I ever played when I was 17 years old. I used to play the piano for musicals in high school. A new teacher came in and said, "I really want you to audition for the musical this year." It was Sarah Brown in Guys and Dolls, so I have this sort of distant memory of playing this role. I wish I could remember what I did last time. [Laughs.] I ransacked my parents' house trying to find the video of that production. I have this wonderful nostalgia and love of this character because it's what made me fall in love with musicals, really, and set me on this path.

Question: Were you able to find the video?
Grant: No! There's a reward out for it! [Laughs.]

Question: Do you have a favorite moment in the show for Sarah?
Grant: I have to say the whole Havana sequence in this production, with the new orchestrations, is just smokin'. It's smokin' hot. And the fact that I get to dance is hilarious and thrilling and shocking, especially to people who know me. [Laughs.] So that's wonderful. And I think singing with Craig Bierko is a dream. It transports you to another world, the duets that we get to sing.