THE LEADING MEN: Kudisch and Silverman


WHAT A WAY TO MAKE A LIVING
Marc Kudisch is the first Leading Man I spoke to when I started writing for this column, and he was a nice starter for me since he's what you call an easy interview. One need only have the mere hint of a question at the ready, and Kudisch will give you his take and then some. Ask him about life on Broadway, and he'll tell how he recently became a kid again when seeing his pal Steve Rosen onstage in Guys and Dolls. Ask him about current events, and the political science major lurking in his past waxes near poetic about Barack Obama's communication skills. Playing a kind of jerk like Franklin Hart, Jr. in 9 to 5 is nothing new for Kudisch, but Hart's brand of misanthropy has Kudisch pondering just why it is that audiences love those characters and why he plays them so well.
Q: What are you loving about 9 to 5 so far?
Kudisch: What I love about our show is it's a piece of music theatre, it's a comedy. No question, it's fun. We're not looking to change the world, but we are hoping maybe to pluck a string inside of 'ya. It's entertainment, but there's a river of truth running underneath this thing that might take you off guard. There are scenes here and there where I get hissed at! That always makes me smile. It is interesting how a guy like Hart affects people. There is a fine line with this kind of character. He's not the guy you'll ever give love to, but you do love to hate him — especially where we are now in society with this sense of elitism and entitlement that we've seen.
Q: Have you ever had a 9-to-5 job?
Kudisch: Sure. Have I had an a-hole boss? You bet. I had a boss when I was working at this restaurant who hated me. I have no idea why he hated me. Hated me! He thought he was the cock of the walk, and he was a terrible manager, but he thought he was great, and nobody liked him. On his last day of work, all he wanted to do was fire me. They brought in a guy he thought was his assistant but who was really there to replace him. When he found that out, on his last day on the job, he called me to his office to fire me, and his replacement came with me and said, "You can fire Marc, but the minute you walk out of this office, I'm rehiring him again." We've all had bad bosses.
Q: Are there elements of bosses you've known in your portrayal of 9 to 5's infamous boss from Hell?
Kudisch: To a certain degree, yeah. But let's be more honest and say, "Are there aspects of the character that are like me?" — because I don't think you can play a character based on someone you know that's outside of yourself. You have to play based on elements that you can connect to. Even if you trace someone else, there has to be something in you to make it honest. Are there parts of my personality in this? Sure. Somebody asked me what's the biggest lesson I've learned playing this role, and the first thing that came to my mind was how easy it is to say some of this stuff [the character says]. I think there's a little Franklin Hart in everybody. I think the difference between good people and not-so-good people is not what you think or how you feel, but how you choose to act. Saying some of this mean stuff, it's not so hard to say if I let myself. And if I have fun doing it, what does that say about me?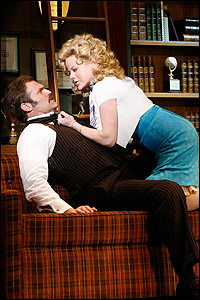 photo by Joan Marcus

Q: That you're not far from the dark side yourself?
Kudisch: I don't think any of us are that far. That's why we enjoy these kind of characters. We get to let our little bad person out, our sexist, egotistical, lying, hypocritical, bigot inside of us. And we don't have to worry about our morality because we know he's going to get it in the end. We can enjoy it and we can all feel good about that. If I got away with it at the end of the play, then we'd all be more upset.

Q: I remember seeing a Richard Widmark interview where he talked about the film "No Way Out," in which his character had to say just the worst things to Sidney Poitier. He couldn't stop apologizing to Poitier on the set.
Kudisch: It's a good thing some of us are actors because if we weren't, some of us would be either getting serious therapy or we'd be in mental institutions. Instead, we get to act this stuff out as a career, which balances us. We get to express those things a normal person doesn't get to express. In my own life, I have a good heart, and I like to respect everybody. It angers me when I do hear people use slurs. It makes me volatile. But what's interesting is when I'm hired to do a job, I like to commit to it as honestly as I can. I've said some really nasty stuff onstage. When I did Witches of Eastwick down in D.C., man, I said some bad stuff, and I really abused the women in that show, verbally. But that was a part of that character. The Wild Party, I would say that was the one that really made me feel gross. That went to the extreme. My character had to rape a 14-year-old girl in that show. Then he gets away with it. So personally, I felt really gross and disgusting at the end of that play. I don't know how long I could have done that show. I felt like the biggest loser on the face of the planet. But that was a more serious play than 9 to 5.

Q: So, during the last days of rehearsals do you roll with the changes or are you someone who likes a show buttoned down early?
Kudisch: Listen, I'm always open to change. At the end of rehearsals, the show's going to be frozen, so structurally, we will be done. But as an actor, if you're lucky, it's going to take you the length of your contract to go, "Okay, I've got it." If you're luckier, you will not feel that way at the end of your contract, which will make you want to stay even longer to try to complete the journey. The hardest thing, at least for me, is if I feel that I've completed that journey within a month or two of playing it. It just becomes playing it. I like it to be fresh. I like to learn. I love the entertainment aspect of what we do, but I like to be like the audience. I want to have that first-time experience every time we go out there.

Q: Have you gotten quality time with Ms. Dolly Parton?
Kudisch: Oh, yeah! Every day. I love her. She's the sweetest, most genuine, hardworking person. She sees the show every night. She gives us high-fives when we come off the stage. She really is awesome as a collaborator. I have a song that was different in L.A. than here, and it has been a process to find it, and last night, I felt like for the first time, I got it. And when I came off the stage, she was like, "That's the best it's ever gone." And I was like, "Yes, it was!" Just having her there [is great]. [I'll] say to [director] Joe [Mantello], "You're in a really good mood today." And he'll say, "Dolly's here!" When she's around, you can't be in a bad mood.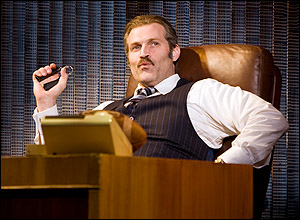 photo by Joan Marcus

Q: Most of your bios pick up in college. Did you ever have an earlier notion of being an actor?
Kudisch: The truth is, I didn't. It was never anything I fathomed. You have to understand, I was the biggest geek you ever met in your life when I was in high school. I got into the gifted program starting in third grade, so I was in the same class with the same people from the third grade till I was a senior. My world was tiny compared to everyone else's. I was president of the Spanish club for two years. My brother was Mr. Popular, president of his class. He used to drop me off by the side of the school, then drive around front because he didn't want to be embarrassed by me [laughs]. My senior year, I chose to do stuff, because I didn't want to go through school without doing stuff. Then in college I really discovered, that wow, I want to be an actor, of all things — which, I'm happy about, to be honest with you.

Q: Glad to hear you're pleased.
Kudisch: When you get to do this stuff, it's a dream come true. I was saying to [co-star] Stephanie Block onstage, "We're living the dream!" We'd been sweating for 12 hours a day, not knowing what day it is, and she giggled, and I said, "I mean it. This is the reality of that dream, but this is the dream." If you can't do this and say, "I am lucky, lucky, lucky," then you're an ass. And I am an ass, but I still recognize how fun this is.

[9 to 5 plays the Marquis Theatre, 1535 Broadway. For more information go to www.9to5themusical.com.]