STAGE TO SCREENS: Edie Falco, From "Sopranos" to "Nurse Jackie" to Off-Broadway's This Wide Night



Joseph Marzullo/WENN
*

Although she's well aware of the dangers of Hollywood typecasting, Edie Falco never fretted about being forever pigeonholed as Carmela on "The Sopranos."
As that landmark HBO series drew to a close in 2007 after six groundbreaking seasons, Falco remained confident she would eventually be able to escape from the shadow of her indelible character — the fiery yet devoted New Joisy mob wife who she rendered with exquisite complexity and exacting detail.
Falco's portrayal of Carmela earned her a wheelbarrow full of awards, including three Emmys and two Golden Globes. So when she began considering options for her post-"Sopranos" career, she didn't dwell on viewers' perceptions of her as an actress or even carefully calculate her next move.
"I don't plan that much, to be honest with you," says Falco, 46, who has returned to the New York stage for the first time in five years in Chloe Moss' post-prison drama This Wide Night, for Naked Angels. "But I knew I had my work cut out for me, because 'Sopranos' was so exciting and fulfilling. I really wanted to find something that would be at least as challenging and really grab me again. It's a tough act to follow. So it did take a while."
After "The Sopranos" wrapped, scripts for New Jersey-set dramas about hot-tempered housewives and big Italian families poured in. "I was like, 'Really, guys? And you thought of me? I can't believe it,'" she snaps. While it was frustrating, she carefully bided her time, patiently waiting for the right project and role to materialize, one that would ideally push her into new territory and challenge her creatively.
If you've seen Falco's new Showtime television series, "Nurse Jackie," you're well aware how thoroughly she's succeeded. Not only did she break the Hollywood typecasting stranglehold, she reinvented the popular perception of her as an actress.
In the half-hour comedy series, she plays an ER nurse who isn't afraid to take matters into her own hands when the bureaucratic, inefficient health care system threatens her patients — whether admonishing a doctor for a mistake, forging an organ donor card, or committing euthanasia on a dying former colleague. Jackie also has a few personal secrets rattling around in her closet: Namely, a family she keeps under wraps from her colleagues, an affair she's been carrying on with a co-worker, and most significantly, an addiction to prescription painkillers that she pops like Flintstones vitamins.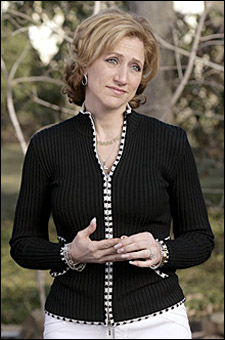 photo by Craig Blankenhorn/© HBO

Whereas Carmela was brassy, strong-willed, materialistic and fiercely protective of her family, Jackie is a cool, calm, dry-witted smart-aleck who doesn't suffer fools and is intensely unsentimental. Then there's the physical transformation. On "The Sopranos," Carmela was the picture of the tacky New Jersey housewife, with long lacquered fingernails, big feathered hair, and sometimes garish clothes. Her new character has a close-cropped, low-maintenance hairstyle, wears little makeup, and is mostly seen in her blue scrubs with a sweater thrown on top. Still, both characters grapple with pathological self-deceptions.

"Nurse Jackie," which is wrapping up its second season, has become a breakout hit for Showtime, with Falco earning rave reviews and nabbing Golden Globe and Screen Actors Guild award nominations.

"I have no idea what people think about it, or if they think of me as having successfully redirected my career," she says. "But it is the challenge I'd hoped it would be, and it has activated me internally in a way that I had wanted."

Falco managed to reinvent herself anew, but she acknowledges that's much easier said than done. For her, it was all about remaining patient in looking at options for her next project while not letting casting agents and directors pigeonhole her.

"Let's say you've played a waitress. Sometimes casting people are not terribly creative, so they think, 'Oh right, Edie Falco plays a waitress!' So they'll call me, and they'll offer me the part of a waitress. The question then becomes: Can I be true to myself and say no to this and just wait 'til something different comes along? And I understand — a lot of actors can't because they need to work. But you know, it's your job to say, 'No, you know, I've played a million waitresses, and I'm not going to take this job. I'm going to wait until something comes along that's different.' And it may be a long time. But in the end, it'll be worth it."