A Breakfast Date on Broadway: Truman Capote's Classic Story Reborn on the Stage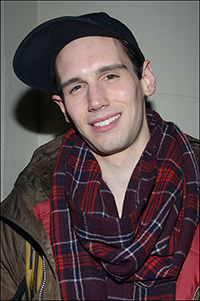 Photo by Monica Simoes
Greenberg's adaptation is said to be faithful to the original story, and includes characters that were left out of the film, including bartender Joe Bell, who is played by George Wendt in the Broadway show.
"What Richard Greenberg has done so beautifully is show events in that relationship [between Holly and Fred] in which I try to involve myself in her life," said Cory Michael Smith (recently of Off-Broadway's Cock), who plays Fred, the young writer who relates the story. "You see our relationship building, which you don't get so much in the novella." Smith is on stage the entire length of the play, which is introduced by an older Fred of 1957 looking back at a time in his life 14 years earlier.
"Great writing is timeless," said Mathias when asked why 2013 was the right year to tell this story anew. "And this is a beautifully written piece. It's funny, it's witty, it's romantic. It's also non-techno. This is a heart and blood and guts story. This is about human beings. It's about who we are as people. It's about what it is to be an individual, what it is to be in love, and what it is to live in New York City in 1943, which is a very important element. The book is set during wartime."
Everyone in the cast concurred about the quality of Capote's original tale. "I've really never known what the fuss was about Truman Capote," admitted Wendt, who didn't read "Breakfast at Tiffany's" until he was offered the play. "I thought he was cute on the chat shows. But I really didn't understand what a ridiculously good writer he was."