A Breakfast Date on Broadway: Truman Capote's Classic Story Reborn on the Stage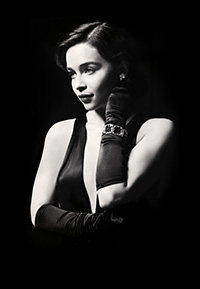 Photo by Jason Bell
In searching for his Broadway Holly — a character memorably played by Audrey Hepburn in the movie (Capote had wanted Marilyn Monroe for the part) — Mathias said, "What I was looking for I didn't think I would ever get, and I got it absolutely. I was looking for a new, young actress, because Holly Golightly is 18 years, 10 months old when the story starts. I wanted someone young. And I thought I wouldn't get that. Because of all the pressure of doing a Broadway show, you have to have a big name, and that wouldn't necessarily be someone young."
The ball of "youth, freshness, charm, beauty, and lots of talent," that he found is Emilia Clarke, best known to the public for her work in the blood-sex-and-fantasy HBO series "Game of Thrones"
"It wasn't so much I was looking for a stage job," said Clarke, 25, who is brunette and petite. "It's just that this happened and there was no way I was going to say no."
Mathias said he had never even asked Clarke if she had seen the film version of the book. So this reporter did. "Oh, yeah!" said Clarke. "I fell in love with Audrey Hepburn from an early age. I've seen everything she's ever done. But as soon as the book came into my life, the movie fell out. Holly within the novella — there's a lot more from which to draw as an actor."
She continued, "I've been taking it step by step. For a girl who doesn't live in the past, she has a huge past. The Great Depression, the South, the great drought. That's where I started. That's been a way into understanding how she came to be who she is in Manhattan."
Clarke, who was born in London, has an English accent, but for the masquerading Southern girl Holly, she'll be adapting "a kind of Jackie Kennedy, Martha's Vineyard, Hollywood, Katharine Hepburn accent — that kind of era."