A Curtain Rises, Gently, on Autism-Friendly Shows on Broadway



Photo by Joan Marcus
*

For more than 30 years, the Theatre Development Fund has been working on increasing stage show accessibility. Its unflagging efforts have made a trip to the theatre more appealing to a wide variety of people with physical disabilities. TDF Accessibility Programs (TAP) have created open-captioned and American Sign Language-interpreted performances on Broadway and off, shows for theatregoers with mild to profound hearing loss, and audio-described performances for people who are partially sighted or blind.

Now TDF has found a way to include yet another underserved constituency hungry for live entertainment.

In the fall of 2011 the Fund launched the Autism Theatre Initiative with a performance of The Lion King specially catering to the needs of autistic kids and their families. The event was such a success that a second outing, to Mary Poppins in April, was organized. And the initiative will return to The Lion King on Sept. 30 (it went on sale at 12:01 AM Monday, June 25 and was sold out by 8 PM).

Families attending these shows arrive confident they will find a friendly and accommodating environment. TDF buys out the entire house, then resells the tickets only to moms and dads with children on the autism spectrum, including Asperger's syndrome. One of the restrooms is converted into a family bathroom, where adults may enter with kids. A safe area is set up in the lobby or lounge area where families can take a break from the show. And the auditorium is peopled not only with ushers, but with educators and service providers who are schooled in the care of autistic kids.

"With kids on the spectrum, you can't just go to a performance," says Steven Chaikelson, the father of three boys, including twins Jamie and Daniel, who are autistic. "So it's wonderful to go to a show where, if Jamie begins singing 'The Muffin Man,' it's kinda OK. And if I have to leave with Daniel because he can't handle it and we have to wait outside for a bit, that's OK, too."

Chaikelson is a general manager who has worked on many Broadway and Off-Broadway shows, including The Lion King. Years ago Chaikelson would take his sons to the occasional theatre show. "The problem was that Jamie would vocalize during the performance and Daniel was really terrified of the environment. For many years, we hadn't gone to see anything." Everything changed with the special initiative performance of The Lion King. "Daniel made it through the whole performance. He didn't have to get up. Daniel cried at the end because he didn't want it to end."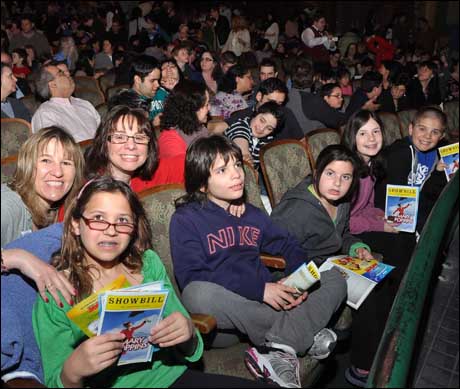 photo by Anita & Steve Shevett