A LETTER FROM LONDON: Kevin Spacey Cleans Out His Desk at the Old Vic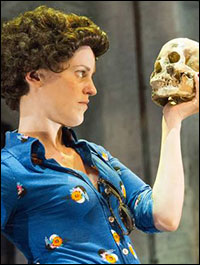 Photo by Alastair Muir
After reviewing for many years, I won't even tell you how many years, I rarely come across a play I can't even begin to understand. Adler and Gibb, by Tim Crouch, at the Royal Court is such a play. Pity, because usually I love Crouch's work but this one... Three directors, including Crouch himself, are credited with directing the play which may go some way towards explaining why it's such a muddle. What is it about? Well, it's about two hours with an interval. Sorry, that's the oldest theatre joke I know but I thought it would amuse you more than my trying to summarise the plot which appears to be something to do with death and art, friendship and the way artists relate to each other and the supposed idiocy of American academic art history. After Adler and Gibb, there is a coda, an odd piece of disjointed dialogue called what happens to the hope at the end of the evening. It doesn't have anything to do with what has gone before unless, possibly, I've missed the connection completely. Which could certainly happen but I'd lost the will to live long before that.
At the Haymarket, for a limited season, is Daytona, a small play about righteousness and memory and guilt by the actor and writer Oliver Cotton and starring Cotton himself, Harry Shearer and Maureen Lipman in the role of her career. She and Shearer are an elderly couple whose comfortable bickering over their ballroom dancing hobby is interrupted by the sudden appearance of his estranged brother. This encounter, which forms the meat of the play, gives Maureen Lipman the opportunity to show us what a truly extraordinary actor she is and to stretch her usual comedy chops in a part which goes way beyond what we have come to expect and what we have come to expect is pretty damn good.
The Tricycle has The Colby Sisters of Pittsburgh, Pennsylvania, an American play about the difficulties of being a celebrity — alas, poor darlings — in the form of five sisters from a fabulously wealthy family who are slightly distressed when one of them, I forget which one, commits suicide, leaving a perfect tennis doubles four. Well acted but slight, very slight.
Not, I think, the kind of plays that Kevin Spacey would choose for his Old Vic. As I say, I'm going to miss him.
(Ruth Leon is a London and New York City arts writer and critic whose work has been seen in Playbill magazine and other publications.)
Check out Playbill.com's London listings. Seek out more of Playbill.com's international coverage, including London correspondent Mark Shenton's daily news reporting from the U.K.