A LIFE IN THE THEATRE: Paul Gemignani, the In-Demand Broadway Conductor and Musical Director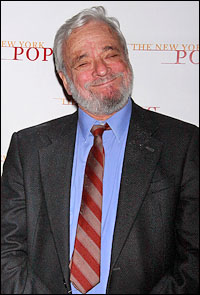 photo by Joseph Marzullo/WENN

He met Sondheim through Hastings, who was his boss for the road company of Zorba as well as musical director of a new 1971 Sondheim show called Follies. On the road with Zorba, Gemignani was musical director and conductor. Hastings "called and said, 'I have a perfect show for you. Could you come back to New York and do it for me?' I said, 'Is it a conducting job?' He said, 'No.' I said, 'I'm not interested. I've stopped playing. I'm a conductor.'"

Hastings persevered. "He said, 'You'll meet everybody you'll ever need to meet in the business on this show.' I said, 'Who?' He said, 'Hal Prince.' I said I already knew him. He said, 'Michael Bennett' [Prince's co-director and choreographer on Follies]. I didn't know who that was. He said, 'Steve Sondheim.' I had no idea who that was. Remember, I didn't come from that world."

Gemignani still wouldn't agree, so Hastings said, "'Listen, if you don't do this I'm going to fire you the minute your contract's up because you're making a mistake.' I definitely said no, hung up, and talked to friends. They said, 'Are you out of your mind? Go to New York.'"

So he went. "That's when I first met Sondheim. I was a drummer in Follies. I took that show over when Hal Hastings left."

Sondheim, he says, is "probably the best collaborator in the sense that he writes his music and will adapt it and fit it and work on it to make the show work. It's not, 'This is what I wrote, make it work.' It's collaboration, totally."

The Mystery of Edwin Drood — Rupert Holmes' music-hall romp based on the unfinished Charles Dickens novel — is a joy, he says. "Somebody said [a show like] this is the reason he went into musical theatre. It's fun, spirited, good-natured."

There's a musical he's never done that he'd like to do — 1964's Funny Girl, the Barbra Streisand starrer. "I love Jule Styne's music. It's a score that needs to be heard."