A Moment in the Woods: Stagedoor Manor Immerses Students in Theatre With In the Heights, Bloody Bloody and More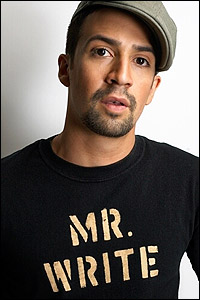 Photo by Corey Hayes

The repertoire at Stagedoor Manor covers everything from classic musicals, dramas and contemporary works that push boundaries. Owner Cindy Samuelson explained that, although Stagedoor requires an age limit and parental consent for shows such as Andrew Jackson, the camp does not stray from providing the students with a complete theatrical education and offering students with musicals and plays that they want to perform in, including works that would never be produced in a high-school setting.

Following Andrew Jackson and the rest of the morning's shows, the cast of In the Heights gathered for a special phone call before they got into costume for their dress rehearsal.

Lin-Manuel Miranda, the Tony-winning creator and star of In the Heights, called Playbill.com while in the Catskills to provide the cast with last-minute words of wisdom (and listen to the cast sing a few bits and pieces from the score).

"My friends in Jerusalem are obsessed with [In the Heights]," said Heights ensemble member Shira Potter, 17, who came from Jerusalem, Israel, for a three-week session at camp (Stagedoor offers three sessions per summer that include under 300 students, and campers are only allowed to register for a maximum of two sessions). "They are going to freak out when they hear… They are going to flip their lid when they find out A) I was in the show and B) I talked to Lin-Manuel Miranda!"

"Hearing the voice of such a Broadway genius is crazy," added Greta Bradbury, 18, who came from Philadelphia, PA, and played Daniela. "I couldn't believe that I was talking to the creator of this show that we're about to perform. And, it made me realize what an honor it is to come to Stagedoor and do such a show like this and realize the connections that Stagedoor has. And, the fact that he [has] worked here blows my mind because it just shows me that coming from here, we can go on to do such great things also."

Although Miranda was never a "camper" at Stagedoor, he was among the many other professionals who have graced the Stagedoor campus at one point or another. Alumni include Adam Pascal (Rent), Julia Murney (Wicked), Lea Michele ("Glee"), singer Mandy Moore, Michelle Federer (Wicked), Natalie Portman ("Black Swan"), Jon Cryer ("Two and a Half Men"), Skylar Astin ("Pitch Perfect"), Robert Downey ("Iron Man"), composer and actor Jeff Blumenkrantz (Urban Cowboy), Zach Braff ("Scrubs") and composer Jeanine Tesori (Thoroughly Modern Millie), among many others.

"[The annual] 'Our Time' Cabaret was started by Jeanine Tesori when she first started, and we just say, 'Bravo!'," said owner Samuelson. "The hard part is when they come back and say, 'Hey, I need a musical director for the touring company of In the Heights. Would you mind giving me your musical director?'"

"Or when Kimberly Grigsby comes to do a vocal workshop, as she's musically directing Spring Awakening, and [wants to take] two of my leads from Wild Party to New York to audition, and she says, 'But I need them on the tour right now'," added production director Konnie Kittrell.