A Moment in the Woods: Stagedoor Manor Immerses Students in Theatre With In the Heights, Bloody Bloody and More


*
It was "Dress Rehearsal Day" July 25 at Stagedoor Manor — the famous performing arts summer camp located two hours outside of New York City in Loch Sheldrake, NY — and makeup was being applied at 9 AM. Campers ages 10-18 were preparing for their first audience members: each other.
Thirteen productions at Stagedoor were getting their first run-throughs — complete with lighting and costumes — following a limited rehearsal period, in which students were learning the entirety of musicals and plays Les Misérables, Our Town, The Young and the Fair, Pilgrims of the Night, A… My Name is Alice, Annie, Elsewhere in Elsinore, Chicago, 42nd Street, The Mystery of Edwin Drood, The Who's Tommy, Bloody Bloody Andrew Jackson and the highly-anticipated In the Heights. Half of the shows performed in the morning (with the remaining casts acting as the audience members), and sets were changed during lunch for a switch in the afternoon.
Although each production looked practically polished for its dress rehearsal, it was only a ten-day rehearsal period — with limited access to a cell phone and the Internet — that led the campers to the finish line.
"You have ten days to put on a show," explained the 17-year-old star of Tommy, Derek Speedy, who came from Chester, NJ, for his tenth session at Stagedoor and played the title role. "By the time we find out what show we're in [and] what our role is, we have ten days to get it all up and running, and then it's tech week. You have three days of tech, and then you go into your dress rehearsal, and it's the first time that another cast will watch you perform. It's the first time we have an audience."
"It's a totally different feeling, really," added Speedy's younger version in the show, Owen Cumming, 13, who played Young Tommy.
After each show bows, campers are spotted throughout the Stagedoor campus congratulating one another, sharing their thoughts on the productions and gearing up for their next chance in the spotlight — a camaraderie similar to the first three days of each session during auditions.
"The boys audition on Monday, and some of the girls do, [too, as well as] on Tuesday, and then on Wednesday morning, we wake up around 8 o'clock and have breakfast, and from 9:30-10 o'clock we have 'Reveal,' which is in the Cabaret Lobby," said Andrew Heddleson, 17, who explained that students audition blindly, not knowing what shows are in store for the summer. "All the directors come out and do a little skit to present their show. Last year for [the Maury Yeston musical] Phantom, they started playing Phantom of the Opera, and then the director said, 'No! That's the wrong Phantom!' So we find out what the shows are officially… They let the little kids go first to look at cast lists, and then we all run over to the cast list, and there's a huge group of people there. It's this huge [post of] 14 pieces of paper with 300 names on them, and all these kids are trying to find their own name. It's pretty crazy."
This summer, Heddleson, who played the title role in last year's Phantom, took on another title role — in the Stagedoor production of the Michael Friedman-Alex Timbers musical Bloody Bloody Andrew Jackson, which blends an emo-rock score with historical fact to tell the story of America's controversial seventh U.S. President.
Heddleson, in leftover black eyeliner and black nail polish, fresh from his dress rehearsal at the Oasis Theatre — a theatre in the round and one of the eight houses at the camp — confessed that it was not only a challenge to carry the show after a ten-day rehearsal period, but that it was also demanding to digest the edgy themes of the groundbreaking musical.
"I mean, the language [is not jarring]," said Heddleson, who throws around profanity frequently in Bloody Bloody ("Underscore, motherf*ckers" was overheard during his dress rehearsal). "I think that it's not distasteful in the show. It serves its purpose, and it is artistically important to the show… But the themes, it's a bit of a struggle with him bleeding himself [during "Illness As Metaphor"] and the bigamy, but we have a great director [and a] great cast… It's a challenge. It's not something I'd ever get to do."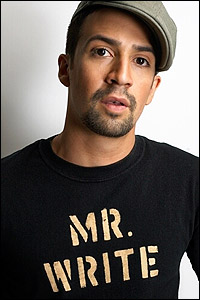 Photo by Corey Hayes

The repertoire at Stagedoor Manor covers everything from classic musicals, dramas and contemporary works that push boundaries. Owner Cindy Samuelson explained that, although Stagedoor requires an age limit and parental consent for shows such as Andrew Jackson, the camp does not stray from providing the students with a complete theatrical education and offering students with musicals and plays that they want to perform in, including works that would never be produced in a high-school setting.

Following Andrew Jackson and the rest of the morning's shows, the cast of In the Heights gathered for a special phone call before they got into costume for their dress rehearsal.

Lin-Manuel Miranda, the Tony-winning creator and star of In the Heights, called Playbill.com while in the Catskills to provide the cast with last-minute words of wisdom (and listen to the cast sing a few bits and pieces from the score).

"My friends in Jerusalem are obsessed with [In the Heights]," said Heights ensemble member Shira Potter, 17, who came from Jerusalem, Israel, for a three-week session at camp (Stagedoor offers three sessions per summer that include under 300 students, and campers are only allowed to register for a maximum of two sessions). "They are going to freak out when they hear… They are going to flip their lid when they find out A) I was in the show and B) I talked to Lin-Manuel Miranda!"

"Hearing the voice of such a Broadway genius is crazy," added Greta Bradbury, 18, who came from Philadelphia, PA, and played Daniela. "I couldn't believe that I was talking to the creator of this show that we're about to perform. And, it made me realize what an honor it is to come to Stagedoor and do such a show like this and realize the connections that Stagedoor has. And, the fact that he [has] worked here blows my mind because it just shows me that coming from here, we can go on to do such great things also."

Although Miranda was never a "camper" at Stagedoor, he was among the many other professionals who have graced the Stagedoor campus at one point or another. Alumni include Adam Pascal (Rent), Julia Murney (Wicked), Lea Michele ("Glee"), singer Mandy Moore, Michelle Federer (Wicked), Natalie Portman ("Black Swan"), Jon Cryer ("Two and a Half Men"), Skylar Astin ("Pitch Perfect"), Robert Downey ("Iron Man"), composer and actor Jeff Blumenkrantz (Urban Cowboy), Zach Braff ("Scrubs") and composer Jeanine Tesori (Thoroughly Modern Millie), among many others.

"[The annual] 'Our Time' Cabaret was started by Jeanine Tesori when she first started, and we just say, 'Bravo!'," said owner Samuelson. "The hard part is when they come back and say, 'Hey, I need a musical director for the touring company of In the Heights. Would you mind giving me your musical director?'"

"Or when Kimberly Grigsby comes to do a vocal workshop, as she's musically directing Spring Awakening, and [wants to take] two of my leads from Wild Party to New York to audition, and she says, 'But I need them on the tour right now'," added production director Konnie Kittrell.





Aside from producing the next generation of performers, Stagedoor is also aiming to expose the campers to all forms of theatrical art, including writing and directing.

"This is our sixth year doing it — it's called Dramafest," said Tommy's Speedy. "I'm a writer this year. This is my third time writing, actually, and for me [Dramafest has] been a very, very special program here at Stagedoor. It's taught me a lot. I've been able to write my own piece, and it's a ten-minute play that I have to direct as well. It's produced in front of the entire camp, and in the end it will be published." Each year, the ten-minute pieces are collected and printed by Samuel French, Inc.

"I've seen almost all of Derek's shows," said co-star Cumming. "The whole camp… Their reaction to [Dramafest] is astonished — by how campers can [create] an actual production."

Before the end of the day, Preston Cox, 17, from Gulfport, MS, confided, "I've dreamed of playing Usnavi. It was a dream, and then the cast list came out, and it became a reality. It's a true blessing… This is my third year. It's a once-in-a-lifetime experience."

The campers, on a high from Miranda's advice — to perform as a "community" — took the stage for their first audience of In the Heights. They worked together, as "one," for a cohesive first performance and garnered rapturous applause from their peers.

(Playbill.com staff writer Michael Gioia's work appears in the news, feature and video sections of Playbill.com as well as Playbill magazine. Follow him on Twitter at @PlaybillMichael.)

Watch highlights from "Dress Rehearsal Day" at Stagedoor: