A New Kind of Spider Woman: Chita Rivera Wows Broadway Crowd in Concert of Kander & Ebb's The Visit



Photo by Joseph Marzullo/WENN
*
Hell hath no fury like a scorned town slut who comes back home late in life, a millionairess many times over, and demands the local denizens administer some outstanding checkbook justice to the guy who done her wrong when they were young. You've not seen such a show of hands since "Murder on the Orient Express"!
In The Visit, this amounts to municipal murder, pure and complicated, and it comes with music, too — an original Broadway score, achingly exquisite and buoyantly melodic, that would dress up any season (up to and including the one that is confronting us now with Spider-Man, Bonnie & Clyde, Lysistrata Jones, Rebecca, Ghost, Newsies, et al).
Okay, so you don't go out humming the morality. When, in their glorious 42-year collaboration, did John Kander and Fred Ebb, ever make it easy for us? Lynch mob and Nazi rule and trial-by-newspapers — this is grist for their musical mill — and, usually, the more difficult the subject, the more soaring the sounds.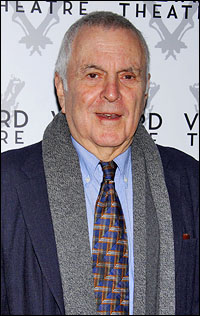 photo by Joseph Marzullo/WENN

The hard life-lessons which they have punctuated with jaunty, lilting melodies hailed from a same-named 1956 play by Friedrich Dürrenmatt which had served The Lunts well for 189 performances (their last on Broadway). Terrence McNally did the musical-book adaptation, re-creating the incredible situation outlined in Paragraph One with more than a gingerbread dash of Brothers Grimm.

Because the creators faithfully follow Dürrenmatt's blueprint (they paint themselves into a very dark corner and won't take the easy way out) it has taken a decade for the show to have its day on Broadway. That day was Nov. 30, at the Ambassador Theatre, for a one-time-only benefit for The Actors Fund and for the theatre that gave Kander and Ebb their last stand, The Scottsboro Boys — the Vineyard.

The show was originally set to open on Broadway March 15, 2001, with Angela Lansbury as "the richest woman in the world," Claire Zachanassian, but the actress withdrew because of the failing health and subsequent death of her husband.

Chita Rivera took over the star part, opposite John McMartin, the following fall for a full staging at Chicago's Goodman, directed by Frank Galati and choreographed by Ann Reinking. But the national fallout from 9/11 weighed like lead on the show, and it was considered much too dark for the times, and that mood hadn't lifted three years later when a version tried to — and couldn't — get off the ground at The Public with Rivera and Frank Langella.