"All the World's a Stage": One Woman's Survival Guide to Waiting in Line for Shakespeare in the Park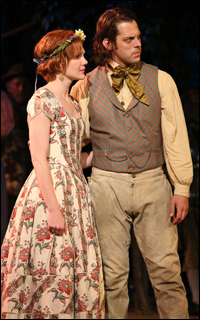 Photo by Joan Marcus

Entertain Yourself
Bring a book or two, a deck of cards, board games, a crossword puzzle, an iPhone or even your iPad to stream a movie. Even if you manage to nap for a few hours while you are in line, people and dog-watching will probably get boring as the day goes on. Depending on how long you are waiting, you could even read the a copy of the play you're seeing that night.

Bring Food
You are going to be in line for a long time, and you are going to get hungry. Bring some bottles of water, snacks, or even an entire lunch, and definitely bring some coffee or tea with you. If you can't pack your snacks, you can order food from Andy's Deli, which will deliver to people waiting in line. Their phone number is (212) 799-3355, and they open at 6 AM. The Public also sells food at Public Fare. The seasonally operated outdoor cafe at the Delacorte Theater provides sandwiches, hot dogs, snacks, desserts, coffee, wine and beer to hungry theatregoers and accepts cash and credit cards.