"All the World's a Stage": One Woman's Survival Guide to Waiting in Line for Shakespeare in the Park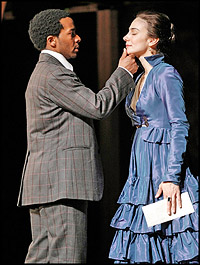 Photo by Joan Marcus

Bring a Friend
The wait is always better if you have someone with you. You can help keep each other awake or take turns napping in shifts. Make sure you get in line together; people are not permitted to join groups after the lines are formed.

Make New Friends
Some people view waiting for tickets as a competitive sport. Respect the rules. Don't cut anyone in line and if someone asks you to watch his or her things for a moment, help the person out. You might need a favor later in the day. And, it never hurts to be friendly; I've actually made some good friends while sitting in line. You can learn a lot about someone in eight hours.