"All the World's a Stage": One Woman's Survival Guide to Waiting in Line for Shakespeare in the Park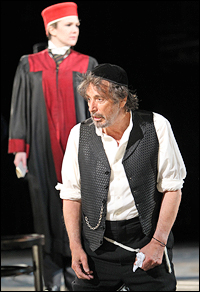 Photo by Joan Marcus

Know the Basics
Tickets are distributed at noon. Each person can get two tickets.

Before the park opens, the line for tickets starts at 81st and Central Park West. After the Park opens at 6 AM, the line moves to the Delacorte Theater. Someone from the Public Theater will come out and lead you there, but if you are waiting outside the park, you should probably set an alarm for 5:45 AM.

There are public restrooms by the theatre, in the park.

If you have any questions while you're in line, employees of the Public Theater will be there. They will talk with you while you wait and ensure that people respect the rules and don't cut in front of each other.

Stay Local
If you don't like camping, on specific dates a limited number of vouchers for that night's performance will be distributed at locations throughout New York's five boroughs.​ Ticket vouchers will be distributed between noon and 2 PM, while supplies last. Each person in line is allowed two vouchers, and each voucher is good for one ticket. Vouchers must be exchanged for tickets at the Delacorte Theater Box Office in Central Park between 4:30 PM and 7:30 PM.

Thursday, July 25 – Staten Island
Snug Harbor Cultural Center
1000 Richmond Terrace

Friday, July 26 – Bronx
The Point
940 Garrison Avenue

Saturday, July 27 – Brooklyn
Brooklyn Public Library – Central Library
10 Grand Army Plaza

​Tuesday, July 30 - Manhattan
The Public Theater
425 Lafayette Street

​Wednesday, July 31 – Queens
Queens Public Library – Central Library
89-11 Merrick Boulevard

Go Digital

If you can't leave your apartment or office, you can always enter the online lottery. Create an account at shakespeareinthepark.org and enter the virtual lottery. If you win tickets to that night's performance, you'll receive an e-mail at noon that day.

And for those who wait in the park...

Enjoy the Wait
Easier said than done, I know.