And Away We Go — Talking Politics and Theatre With Terrence McNally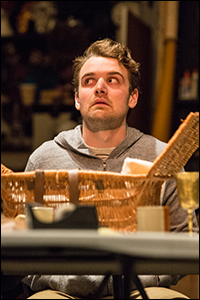 Photo by All Foote III

"It's about the experience of putting on plays, how it's changed, how it hasn't over the centuries," McNally said. "It's my own private tribute to playwrights that have mattered to me, and to all the people who make theatre, and I think that includes concession stand people and ushers and props masters and wig masters and understudies and leading ladies, and great directors and playwrights and producers — all the people on the other side of [the] curtain."

When selecting which works to include in And Away We Go, McNally said he relied on his intuition and plays that possessed "particular hooks" for him.

And Away We Go depicts the drama of theatre, and McNally, whose works include Master Class, Golden Age and The Lisbon Traviata, also writes frequently about opera. But his writing does not only encompass art; numerous plays he has authored also address political issues, including "Andre's Mother"; Lips Together, Teeth Apart; the book for the musical Ragtime; and the controversial Corpus Christi, a passion play that depicts Jesus and the Apostles as gay men living in Texas. While McNally claims he did not see the "firestorm coming" when Corpus Christi provoked a strong response from the public, he said he appreciates an engaged audience that leaves the theatre discussing the play.

"I think that writers write about what's happening to them in the world that we live in," he said. "AIDS was such a big happening in this [era]… How could you not write about it? It affected everyone in this country, whether they realized it or not. And, of course, it got reflected in my plays."

His next Broadway production, Mothers and Sons, addresses the subject of AIDS as it follows a mother who visits the apartment of her late son's ex-partner, who is now married to another man and has a young son.

" Mothers and Sons is very much a play about a post-age world in which men are married and are raising families and have children, but at what price? And what did they pass through?" McNally remarked. "And you know there was a period of time when a lot of my work reflected on the Vietnam War, which was a huge event when I was in my 20s and 30s, just as the world for gay men and women changed."

Citing Stonewall and the AIDS epidemic as two contributing factors to this change, McNally said, "Suddenly gay men and women were taking their place at the table and saying, 'Hey we're here, too.'"

McNally is optimistic about the future. "[Although] not in my lifetime — I'm 75 — but America will have a gay president one day. It's all changing, between Obama and women and very powerful and effective gay people in Washington like Barney Frank, and I think that the taboos are being broken. Look at the polls. People under 35 — their support of gay marriage is over 75 percent. It's also generational. When you really read a strong opposition to same-sex marriage, it's always from people over 65. The younger you get, it's not an issue. The arts are going to reflect all that and whom we elect to office.