Atlantic Theater Company Family Celebrates Rebirth of Its Chelsea Church Space



Photo by Joseph Marzullo/WENN
To the accompaniment of the miniature strummings of Macy, and a bottomless flow of practiced patter, the married duo — long associated with the Atlantic — saluted the company's "loose group of 30-odd theatre artists who are both loose and odd" by setting the titles of all the plays the Atlantic has presented over its two decades to a jaunty melody.
For an encore, they sang the names of the Atlantic actor veterans who were gathered in the audience, including Giancarlo Esposito, F. Murray Abraham and Larry Bryggman. Unlike other recent construction projects undertaken by other New York theatre companies, which replaced old digs with completely new architectural visions, the Atlantic sought, in its $8.3 renovation of its landmarked home, to preserve the space's basic look and feeling, while improving patron and backstage facilities.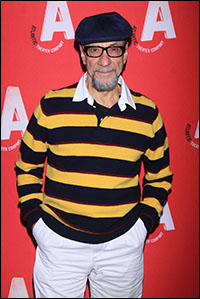 photo by Joseph Marzullo/WENN

"We knew that we needed more space, knew that we needed new bathrooms, more seats," said artistic director Neil Pepe, "but we wanted to do it in a way that didn't compromise the integrity of the space and the charm of the performance space. I talked to [director] Joe Mantello, along with many other people. I asked, 'What do you think we should do?' He said, 'Don't change a thing.' He was saying he loves the nature of this space. But we knew we had to make improvements."

"The hardest part was at the beginning," said longtime Atlantic company member, the actress Mary McCann. "We met all these incredible architects who did these amazing presentations. Ultimately, we went with the architects who said, 'We want to excavate, make it like an archeological dig; we want to preserve the intimacy of the space.' We had to find someone who really meant that, who wasn't going to create something that was more about them than it was about what we're trying to do."

Managing director Jeffory Lawson told how friends now come into the new interior and say, "What did you do? It looks the same." That sort of reaction is fine by him.

Because the Atlantic space — a church that was built in 1850 — is a city landmark, nothing could be done to the exterior. So, to get the additional square footage the company needed to move forward, construction workers dug 14 feet below the building. "All that was down there was a boiler room under the now-green room," said McCann. The work was slow and delicate, since the workers had to protect and secure the building's underpinnings. "For a year, it looked like nothing was happening," said McCann.