Atlantic Theater Company Family Celebrates Rebirth of Its Chelsea Church Space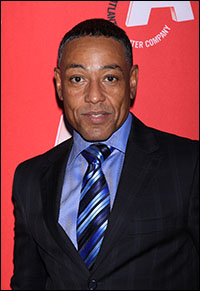 Photo by Joseph Marzullo/WENN

Today, the new 5,100-square-foot basement area contains an enlarged lobby with a suite of new restroom facilities, a new box office, improved handicap access, a prop-building workshop, a costume shop and backstage support offices.

Those new bathrooms are arguably the most appreciated — and joked about — aspect of the renovation. "We have indoor plumbing now!" joked Macy. "So Broadway can kiss our ass."

The Atlantic's former restroom situation was among the most notoriously awkward in the New York theatre. In order to use the facilities, theatergoers had to walk to the side of the stage to a small bathroom that sat cheek-by-jowl with backstage. The lines were often long.

"Those terrible bathrooms!" said McCann. Those facilities established their infamous reputation with the Atlantic's first production, a David Mamet adaptation of Three Sisters starring Pepe and McCann, and directed by Macy. "We used the shelves in the bathroom for prop shelves," said McCann. Among those props were pastries that had been shellacked. A sign warned patrons not to consume the fake goodies, but it was ignored. "Someone ate them and got very sick during intermission."

The bathrooms also acted as unintentional loudspeakers for theatergoers' opinions. "You could hear people talking during intermission about the show," recalled McCann. "It was right there, because the green room for the actors was attached to the bathroom. You had to run upstairs to get away from the talk."

Raising the money for the project during a recession was not easy. According to Pepe, aspirations shrunk from $11 million to $7.5 million after the economy tanked in late 2008. "Interestingly enough," he observed, "we were still able to do everything we wanted to do. We were just creative about it."

Pepe is still fantasizing about further improvements, particularly regarding the downstairs lobby. "I have dreams about putting tables down there, maybe some jazz music."

Especially remembered at the ceremony was Linda Gross, after whom the newly refurbished theatre is named. An avid theatre lover who sat on the board of the directors of the Atlantic, she passed away before the enterprise could be completed. Her husband, Daniel Gross, however, was on hand.