Bring It On: The Musical Brings Together a Trio of Broadway Songwriters



Photo by Corey Hayes
*

Bring It On: The Musical, the new high-octane production that catapults the cheerleading film franchise to new heights, has gotten a dose of adrenaline from three of Broadway's hottest songwriters.

Tony-winning In the Heights star and creator Lin-Manuel Miranda, along with Tony and Pulitzer Prize-winning Next to Normal composer Tom Kitt and his High Fidelity lyricist Amanda Green, are the trio behind the score of Bring It On, which premiered in Atlanta in early 2010 prior to launching a U.S. tour last fall in Los Angeles. The musical is rallying for a 12-week limited Broadway run at the St. James Theatre beginning July 12.

Bring It On director-choreographer Andy Blankenbuehler, who nabbed a Tony for In the Heights, separately wooed each of the writers with the idea of collaborating on a score that would not only showcase their unique styles, but support a fresh new story by Tony Award-winning Avenue Q book writer Jeff Whitty.

"I slept on it and the next morning I was like, 'That's a room I want to be in,'" says Miranda.

"I thought that it was a really unique and exciting way to tackle these two schools and the story," adds Kitt.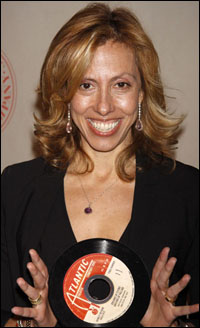 photo by Joseph Marzullo/WENN
The 2000 film of the same title, which pits two cheerleading teams from vastly different schools against each other, spawned four subsequent films and introduced audiences to the world of contemporary cheerleading, which eschews pompoms and ponytails for pop music-video moves and gravity-defying stunts.
While the stage production retains the title and the world of competitive high school cheerleading, Whitty's vision for Bring It On: The Musical ratchets up the stakes of the plot with an "All About Eve" complication.
"It really is a new musical," Kitt says. "We're not looking at any one thing that exists that we can draw from." A touchstone for each of them was their own high school experience. As Green points out, "High school is never really over. You're always trying to fit in, to make good."
Miranda interjects, "It's just when you feel the most! You have the most feelings per second.... You're bursting with hormones and everything's life or death...which is great, fertile territory for a musical."
"It's always life or death with cheerleading — not physically, but you win or you lose," Green says. "All year you work towards a two-and-a-half-minute routine, and it's gotta be perfect. The emotions of cheerleaders are over the top. They're ecstatic, they love their team, and if they lose it's the end of the world."