Broadway Cast and Creative Team "Rise Above" at Spider-Man's Final Flight
Bittersweet was how director Philip Wm. McKinley also felt after the final performance. "It's a bit bittersweet because the audience was so alive," he said. "I think [Spider-Man] showed that Broadway performers [and] Broadway crews have a tenacity and a tenaciousness beyond anybody else, especially this company. This company just fought a battle uphill all the time, and it's great now — like this evening — that they can take in these accolades and enjoy that."
Although the show, which became notorious for mid-show halts and occasional set malfunctions, seemed to go off without a hitch, a minor set adjustment was needed in the beginning of the show's second half. In "A Freak Like Me Needs Company," the Green Goblin's (played by Robert Cuccioli) second-act opener, a hinge would not close on the Goblin's transformation machine, and a crew member ran on from stage left to quickly make the fix. The crowd again applauded.
Patrick Page, the original Green Goblin, said, "Of course, 99 out of 100 of all the nights [at Spider-Man] went off without a hitch. The only ones you hear about are the ones that didn't, so, for me of course, it was watching the show that I know."
Page sat with original Spider-Man co-star Reeve Carney and his wife, Paige Davis. ("Paige kept reaching across and squeezing my hand," he admitted. "We were having lots of special moments.") The trio rushed the stage for the final curtain call, and Carney handed out roses to the cast. Julie Taymor, the original vision behind Turn Off the Dark, was not in the house for the final performance, and no mention was made of the show's songwriters Bono and The Edge.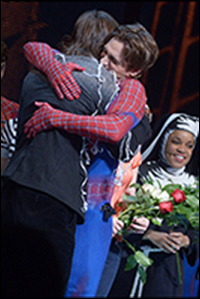 Photo by Monica Simoes

"It was really exciting," said Carney of the evening. "I was sad to see it leave Broadway — at least for now — but I was excited to be here for that. Technically, [the show] had a huge impact on stretching the boundaries of what can be done on Broadway, but I hope that kids coming to see the show will [become] lifelong Broadway fans."

Although the show was deemed by many to be a "flop," a week before its closing, many members of the theatre community — including restaurant owner Joe Allen — took pride in the boundaries that Spider-Man broke, the jobs it provided and the people it brought to the theatre.

"What happened a couple of days ago that really just warmed my heart," explained director McKinley. "It was Joe Allen. When they asked him about the Wall of Shame, and he said, 'Three years — it provided hundreds of jobs. It had the top weekly box-office record on Broadway...' That was so warm and so warm-hearted of him to say that. I think that was the truth, and I'm so glad that someone had the courage to just say it."

(Playbill.com staff writer Michael Gioia's work appears in the news, feature and video sections of Playbill.com as well as in the pages of Playbill magazine. Follow him on Twitter at @PlaybillMichael.)