Bucks County Playhouse Re-Lights July 2 With A Grand Night for Singing; Erin Davie, Ron Bohmer Star



Photo by Joseph Marzullo/WENN
The extended run plays to July 29. Tony Award nominee and Emmy Award winner Lonny Price (A Class Act, Urban Cowboy, NY Philharmonic concerts) directs the musical that features more than 30 classic songs by composer Richard Rodgers and lyricist Oscar Hammerstein II. The title song is from the film "State Fair." Expect standards from Oklahoma!, South Pacific, The King and I and more.

This marks a return of Actors' Equity shows to the famed former summer-stock house where stars used to work, and where some plays played pre-Broadway tryouts. A ribbon-cutting ceremony will take place at 7 PM July 2. Expected to be on hand are BCP producing director Jed Bernstein, Bridge Street Foundation founders Kevin & Sherri Daugherty, and Bridge Street Foundation president Tanya Cooper, as well as notable attendees Mayor Laurence Keller (New Hope), Chris Hart (son of Moss Hart), Pennsylvania Lieutenant Governor Jim Cawley, Congressman Michael Fitzpatrick (U.S. Representative for Pennsylvania's 8th Congressional District) and Will Hammerstein (grandson of Oscar Hammerstein II).

A Grand Night for Singing — a 1994 Tony Award nominee as Best Musical and Best Book of a Musical — has arrangements by Fred Wells with orchestrations by Michael Gibson and Jonathan Tunick. It was originally produced at Roundabout Theatre Company in New York City in 1993. Bobbie conceived the show.

Balan appeared in Broadway's Cry-Baby; Bohmer is a vet of Broadway's Phantom of the Opera and the recent Ragtime; Bosworth acted in Atlanta's Xanadu and Clyde and Bonnie: A Folktale; Davie starred in Broadway's A Little Night Music and Grey Gardens; and Miller appeared in Broadway's Xanadu and The Color Purple.

The BCP summer will continue with Barefoot in the Park by Neil Simon. The comedy was first seen on the BCP stage almost 50 years ago prior to its original 1963 Broadway run. Tony Award nominee Sheryl Kaller (Next Fall) will direct. Performances will play Aug. 7-26.

The third production of 2012 will run Dec. 4-30. Details will be announced.

For tickets and information, visit bcptheater.org.

*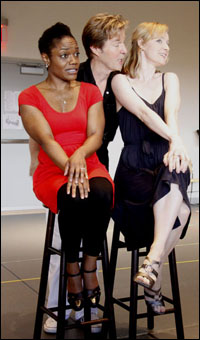 photo by Joseph Marzullo/WENN
Bucks County Playhouse will have a gala benefit performance 8:30 PM July 5. Proceeds from this evening will support the continued restoration of the Playhouse and "the effort to bring it back as a centerpiece of the New Hope and Bucks County community."
A pre-show cocktail party will be held at Martine's RiverHouse Restaurant (14 East Ferry Street) and a post-show reception at Marsha Brown (15 South Main Street).
Tickets for the pre-show cocktail party, the show, and post show reception range from $275-$350, with the show and post-reception from $200-$275. Tickets for the performance only are $150, $75 for the pre-show cocktail party only and $175 for the post-show reception only.
*
Broadway, TV and film stars regularly appeared at the Playhouse, and pre-Broadway tryouts were part of its history. In recent years, non-union shows were staged there, giving the playhouse the sheen of an earnest community theatre.
The late 18th-century building was originally a grist mill. In the 1930s, the mill was purchased by a group that included playwright Moss Hart, with the idea of producing theatre there. Renovations began in 1938 in anticipation of an official opening on July 1, 1939. The first show was the drama Springtime for Henry starring Edward Everett Horton.
Bucks County Playhouse became known as "America's Most Famous Summer Theatre," welcoming major stars. The plays Harvey, Nobody Loves Me (aka Barefoot in the Park) and Give 'Em Hell Harry made their premieres there. The list of performers who have played there includes Kim Hunter, Helen Hayes, Kitty Carlisle, Colleen Dewhurst, Shirley Booth, Sara Seegar, Lillian Gish, June Lockhart, Frances Reid, Peggy McCay, Grace Kelly, Bonnie Franklin, Kaye Ballard, Sandy Dennis, Farley Granger, Robert Redford, Paul Lynde, Kevin McCarthy, Bert Lahr, Leslie Nielsen, Jack Klugman, Gale Gordon, Roddy McDowell, Walter Matthau, Merv Griffin and Larry Hagman, among many others.