Case Closed: David Mamet's Race Ends Broadway Run Aug. 21



Photo by Carol Rosegg
Mamet also directed his play, which began previews Nov. 17, 2009, and officially opened Dec. 6. Race is not only the longest-running play of the 2009-2010 Broadway season, but upon its closing after 320 performances, there will be no plays represented on Broadway until the Roundabout Theatre revival of Mrs. Warren's Profession begins Sept. 3.
Race, which tests the dynamics of a law office when a crime is committed against a black woman, recouped its entire $2.5 million investment in late April. The original cast featured David Alan Grier, James Spader, Kerry Washington and Richard Thomas. Grier, Spader and Washington departed the production in June. Thomas is the only original cast member to remain with the play.
Race producers announced Aug. 11 that plans are also underway to bring the work to London audiences, as well as individual regional theatres in San Francisco, Los Angeles, Chicago, Milwaukee, Philadelphia and Washington, DC, in 2011.
According to producers, Race concerns "three attorneys, two black and one white, [who] are offered a chance to defend a white man charged with a crime against a black woman."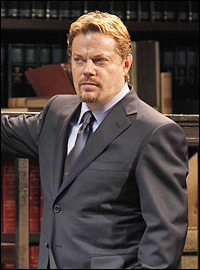 photo by Carol Rosegg

Mamet elaborated on the plot in an interview with the New York Times. "In my play, a firm made up of three lawyers, two black and one white, is offered the chance to defend a white man charged with a crime against a black young woman. It is a play about lies. All drama is about lies. When the lie is exposed, the play is over."

The design team for Race includes Santo Loquasto (sets), Brian Macdevitt (lighting) and Tom Broecker (costumes).

Race is produced by on Broadway by Jeffrey Richards, Jerry Frankel, Jam Theatricals, JK Productions, Peggy Hill & Nicholas Quinn Rosenkranz, Scott M. Delman, Terry Allen Kramer/James L. Nederlander, Swinsky Deitch, Bat-Barry Productions, Ronald Frankel, James Fuld Jr., Kathleen K. Johnson, Terry Schnuck, The Weinstein Company, Jay & Cindy Gutterman/Stewart Mercer and Marc Frankel.

Mamet's plays also include Glengarry Glen Ross (1984 Pulitzer Prize and New York Drama Critics Circle Award, 2005 Tony Award for Best Revival of a Play), American Buffalo, Boston Marriage, November, Speed-the-Plow and The Cryptogram. He has penned the screenplays for such films as "The Verdict," "The Untouchables," "Wag the Dog" and his own adaptation of "Oleanna." He has twice been nominated for an Academy Award. He has written and directed ten films including "Homicide," "The Spanish Prisoner," "State and Main," "House of Games," "Spartan" and "Redbelt." His tense 1992 drama Oleanna made its Broadway debut last fall.

The Ethel Barrymore Theatre is located at 243 West 47th Street. For more information, visit RaceOnBroadway.com.

Highlights from Race: