Chicago, Starring Samantha Barks, Ashlee Simpson and Stephen Moyer, Brings "All That Jazz" to the Hollywood Bowl


The impossibly long legs, cropped hair, slinky black leotards and come-hither stares employed by those smoking hot dancers are pretty much a dead give-away. Even before a note is struck on the makeshift rehearsal piano in the gymnasium of a Hollywood church, it's clear this can only be a tune-up for Kander and Ebb's Chicago.

Having given out a smattering of hugs to cast members and snapped a few cell-phone picture keepsakes, director Brooke Shields stepped forward to welcome the media who have assembled for a sneak peek at what she, music director Rob Fisher and an all-star cast are building.

Building at breakneck speed, we should add. This is a lunch break on day five, exactly halfway through the rehearsal period for a three-performance weekend run, July 26-28, of Chicago at the Hollywood Bowl, the famed West Coast amphitheatre that can hold up to 18,000 people. And, yes, Shields is that Brooke Shields, erstwhile Ivory Snow Baby turned "Pretty Baby," star of "Suddenly Susan," a whole bunch of movies and — more recently — a collection of stage roles on Broadway (Cabaret, Wonderful Town, The Addams Family) and on the West Coast (the pre-Broadway versions of Leap of Faith and The Exorcist.)

Today she's the lady with the clipboard. "Some of what you'll see they learned yesterday and some of it they learned today," explained Shields, who is making her stage-directing debut with the Bowl Chicago. "So be kind."

And with that, Fisher fired up his piano and the aforementioned sultry dancers start writhing and Fosse-ing away to the first few verses of "All That Jazz." Leading the chorus, which has gathered into an inverted pyramid formation, is Samantha Barks, fresh off her turn as Eponine in the 2012 film "Les Miserables." Barks purrs her way through the teasing lyrics, her voice rising with each offer, "Start the car/I know a whoopee spot/where the gin is cold/But the piano's hot…"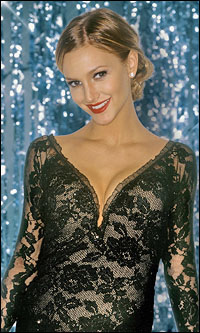 photo by Len Prince
The number abruptly broke off and the dancers scattered to the "wings" to gather notebooks for part two of the taste test, the courtroom number "We Both Reached for the Gun." Playing unrepentant murderess Roxie Hart, Ashlee Simpson perched marionette-like on the lap of Stephen Moyer, bouncing, flopping and grinning as Moyer's slickster lawyer Billy Flynn dictated.
Simpson has been around the block a couple of times with Roxie, playing the celebrity-hungry assassin in both the West End and Broadway revivals of "Chicago." She has this double-Roxie duty in common with Shields, who also played the role in London and New York. Drew Carey, the Bowl's Amos Hart, has previous experience with "Bowl Broadway," having played Wilbur Turnblad in the 2011 staging of Hairspray.
Barks went through a get-it-up-quick cycle with the "24 Hour Plays" in Los Angeles and Moyer — a stage veteran of productions and tours in the United Kingdom — is returning to the boards after a self-imposed hiatus since starting up his six-season run on HBO's "True Blood" in 2008.
"With the show running seven months and then another six weeks of rehearsal and six week run, it always felt like too much to do to my kids," said Moyer, who has 10-month old twins with his wife Anna Paquin and two children from a previous relationship. "I've been offered things and said no up to this point. This felt like the perfect re-introduction."