Circle Mirror Transformation, Aliens, Metcalf and More Win OBIE Awards



Photo by Monique Carboni; T. Charles Erickson; and Joan Marcus
Informally structured, with no strict categories, The Village Voice OBIE Awards honor excellence in every aspect of Off-Broadway theatre. The OBIE Awards publish no nominations, and judges may give multiple OBIEs in any category, or even invent new categories, to reward exceptional artistic merit.

The Voice's chief theatre critic, Michael Feingold, again chaired the OBIE Awards committee. His fellow judges included Voice critic Alexis Soloski and four guest judges: Andy Propst of AmericanTheaterWeb.com and TheaterMania, who also served as secretary to the committee; Kristin Marting, co-founder and current artistic director of HERE Arts Center; Ralph B. Pena, a founding member and current artistic director of Ma-Yi Theater; and three-time Tony Award nominee Martha Plimpton.

OBIE winners for 2010 follow:

The Sustained Achievement Award
David Greenspan

Best New American Play (with check for $1,000)
Annie Baker, Circle Mirror Transformation and The Aliens

Performance
Ensemble, Circle Mirror Transformation (Playwrights Horizons) (Reed Birney, Tracee Chimo, Peter Friedman, Deirdre O'Connell, Heidi Schreck)

Dane DeHaan, The Aliens (Rattlestick Playwrights Theater)

Jonathan Hammond, The Boys in the Band (Transport Group)

Marc Damon Johnson, The Brother/Sister Plays (Public Theater)

Laurie Metcalf, A Lie of the Mind (The New Group)

Wendell Pierce, sustained excellence of performance

Juliet Rylance, As You Like It (Bridge Project/BAM)

Rocco Sisto, sustained excellence of performance

Playwriting
Enda Walsh, The New Electric Ballroom (Druid Theatre / St. Ann's Warehouse)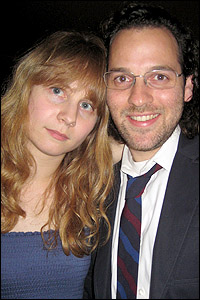 photo by Aubrey Reuben

Directing
Sam Gold, Circle Mirror Transformation (Playwrights Horizons) and The Aliens (Rattlestick Playwrights Theater)

Pam MacKinnon, Clybourne Park (Playwrights Horizons)

Design / Music
Steven Dufala and Billy Blaise Dufala (machine design), Machines Machines Machines Machines Machines Machines Machines (rainpan 43 /HERE Arts Center)

Stephin Merritt (music & lyrics), Coraline (MCC Theater)

Tyler Micoleau, sustained excellence of lighting design

Neil Murray (sets and costumes), Malcolm Rippeth (lighting), Gemma Carrington and Jon Driscoll (projection design), Brief Encounter (Kneehigh Theatre / St. Ann's Warehouse)

Special Citations
Ariane Mnouchkine & Théâtre du Soleil, Les Ephemeres (Lincoln Center Festival)

Taylor Mac, The Lily's Revenge (HERE Arts Center)

The Ohio Theatre

Hoi Polloi and Rachel Chavkin, Three Pianos (Hoi Polloi: Alec Duffy, Dave Malloy, and Rick Burkhardt) (Ontological)

Philippe Quesne and Gaëtan Vourc'h, L'Effet De Serge (Vivarium Studio / Under the Radar)

Chris Wells, Secret City

The Ross Wetzsteon Award (with check for $1,000)
Foundry Theatre

Obie Grants
Harlem School of the Arts

Ontological Incubator

Vampire Cowboys

The Obie Awards were created in 1955 by Jerry Tallmer. Past recipients include Dustin Hoffman, Meryl Streep, William Hurt, Morgan Freeman, Mos Def, Amy Irving, Kevin Kline, Nathan Lane, Olympia Dukakis, Robert Duvall, Kevin Bacon, Alec Baldwin, Kathy Bates, James Earl Jones, Felicity Huffman and Harvey Fierstein, among others.

For more information about the Obie Awards, visit Obies.villagevoice.com.