CUE & A REVISITED: What Was Your First Stage Kiss?; 70 Actors Respond


(Clicking on a name bolded in blue will take readers to that actor's entry in the Playbill Vault.)

Norm Lewis
Veanne Cox in a reading of The Wild Party

Natalie Cortez
I was 14, playing Kim MacAfee in Bye Bye Birdie. Community theatre. It was really embarrassing.

Andy Karl
Awesome

Chester Gregory II
In high school during a production of The Pajama Game

Rebecca Luker
A college production of 1776 playing Martha Jefferson. So weird!

Nick Adams
With Julie Craig (she was in The Fantasticks Off-Broadway). We grew up together doing community theatre. She played Sleeping Beauty and I was the prince.

Brent Barrett
I think it was in a high school production of Lock Stock and Lipstick.

Jennifer Damiano
My friend John Mara when I was Marian in The Music Man opposite him!

Lauren Molina
I was 16 years old and played Lady Larkin in Once Upon a Mattress.

Bryce Ryness
Amberlin Jackson. 1994. I played "Fred" in Pirates of Penzance. We had to kiss at the end. Correction: I should say we *got* to kiss. She was smokin' hot. And older than me. Booyah.

Ari Graynor
Mauro Hantman in a play called Fall at Trinity Rep when I was 16.

Rutina Wesley
My Discovery project at Juilliard with my now-husband Jacob Fishel

Randy Graff
I was 13 playing Laurey in Oklahoma! in summer camp and my boyfriend was playing Curly.

We had a fight and didn't look at each other the whole time. I think he just kissed my cheek. Ahhhh, youth.

Francesca Faridany
First year at Drama School in an Ostrovsky play. I don't remember the name, but I do remember rolling around on the floor.

Terri White
Never! Always played the matchmaker!

Adam Chanler-Berat
Heather Glotzer in Kiss Me, Kate. Instantly cool-ified.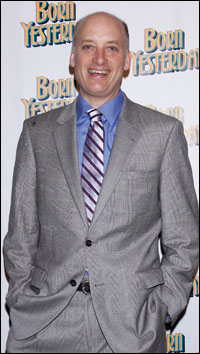 Photo by Joseph Marzullo/WENN

Frank Wood
The first kiss I can remember is within Lanford Wilson's Fifth of July as Ken Talley. I kissed Leon Brown who played my boyfriend Jed.

Gabriel Ebert
Dinner With Friends, a scene in tenth grade for Scene Night at my high school.

Marlo Thomas
In Gigi in summer stock... by Gaston, of course.

Jenn Harris
Well... it was more like a make out. Annie Get Your Gun in high school. Is a kiss even in that script? Whatever...

Alice Ripley
11th grade, David Heckert in The Music Man. Oh boy, there will be no containing him now that his name is in this answer.

Jason Tam
In high school, the Beatrice/Benedick smooch in Much Ado About Nothing.

Jennifer Lim
Senior year of high school in Hong Kong. I played Alison in Look Back in Anger.

Matt Shingledecker
Playing Tom Sawyer in the 6th grade.

Petula Clark
Anthony Newley, who I had a big crush on. He was going to be the lead in a movie and I was going to be his girlfriend. But he had to go into the army so the film never happened!

My first movie kiss was Alec Guinness in "The Card." We were both so timid, so the earth didn't move for either of us.

Carla Gugino
Peter Krause in After the Fall

Kathryn Erbe
Playing Stella and kissing Stanley at Steppenwolf

Ramin Karimloo
As Marius (understudy to Hadley Fraser) in Les Miz

Emma Hunton
Preston Sadleir. I love that boy.

Mare Winningham
High school, The Sound of Music. I played Maria and Kevin Spacey played Captain Von Trapp.

But maybe first, also high school, The Prime of Miss Jean Brodie, with Val Kilmer. I swear, both those shows happened.

Molly Ranson
The boy who played Danny to my Sandy in Grease at Long Lake Camp for the Arts circa 2004.

Josh Young
Playing Perchik to Hodel (played by Carey Brown) at YPTW in Swarthmore (www.yptw.org)

Jennifer Laura Thompson
I should remember, but I don't. Guess it wasn't memorable or I've blocked it out.

Tug Coker
Jen McDearman. The Lizzie to my Danny in Baby at Studio A.C.T. in San Francisco.

Kevin Daniels
King Lear at the Shakespeare Festival of Dallas.

Bryce Pinkham
I was in a production of Seven Brides for Seven Brothers and I was the "lucky" high school freshman who got to kiss the junior captain of the cheerleading squad.

She was not only beautiful but definitely taller than me at the time. I think she had to bend down so that our lips could touch. Totally worth it though!

Michael Cumpsty
Probably in college, since I went to two different all-boys high schools, where that sort of thing wasn't encouraged.

Elizabeth A. Davis
Justin Martindale in Two Gentlemen of Verona at Baylor University

Spencer Kayden
I was 34 and I giggled the whole time. The scene was eventually cut from the play, probably because of me.

Michael McGrath
George M! in high school

Jayne Houdyshell
Senior year in high school, The Rainmaker, John Holt as Starbuck, me as Lizzie

Tracee Chimo
Truly, honestly, madly, deeply — I don't remember.

Bruce Dow
I went to a private boys' school for a while... yup, this is gonna get weird...

In grade 4 I was "Morgana, the Slave Girl" in something called Oily Baba and the Forty Foreigners. Can't remember my hero's name... but... oh, dear...

(I'm joking. I did have to kiss him. But, I was "born this way.")

Anna Chlumsky
I think it was this little Off-Off-Broadway showcase called The Colonel's Holiday.

Christina DeCicco
Evan Klein during The Leader of the Pack in the 7th grade

Ivan Hernandez
Summer stock in Santa Rosa, CA in The Grapes of Wrath. I was playing Al Joad and the girl playing my girlfriend and I just decided to put some kissing in throughout the play for fun. We were young.

Howard McGillin
My high school sweetheart, Anne Van Horne, in our school's production of She Loves Me. She played Amalia.

Oliver Chris
I honestly can't remember. I bet it was brilliant though.

Ashley Spencer
My Japheth in Children of Eden, Patrick Clement, at the Canton Players Guild

Graham Rowat
With Sandy in my high-school production of Grease. She was my teen crush so there were a lot of layers there.

Christine Lakin
Acting class when I was 14. I had a scene where I had to kiss a boy I had a big crush on. It was really quick but completely nerve wracking.

Then I got to kiss Andrew Keegan onscreen when I was 15 and we were told to "stop using tongue, it's a family show!" Oops.

Erin Mackey
My first kiss was on TV! Ah! We did 12 takes or so, so I got some practice.

Taylor Louderman
Hope in Urinetown in high school.

Andrew Keenan-Bolger
I had my first onstage kiss last year with Nikki M. James in a reading of the new musical Rocket Science. Right after that she won a Tony. Coincidence? I think not!

Andrew Varela
West Side Story. I was Bernardo, and Anita surprise-frenched me.

Michael Cristofer
Never been kissed on stage. Oh, wait, David Wilson Barnes kisses me in Don't Go Gentle... but it's a fatherly thing.

Brynn O'Malley
The Harold to my Marian in The Music Man my sophomore year of HS.

Betsy Wolfe
I could make the entire Broadway community jealous by listing all the men and women I've kissed during various shows and readings.

I'd like to think it's karmic payback for my actual first stage kiss when I was 14, kissing a 45-year-old.

Andrew Durand
When I played Peter in Heidi in like 5th grade.

Kate Arrington
It was playing Liat in South Pacific when I was 14. That's right, it was North Carolina and I painted on the eyes.

Daniel Jenkins
With my dear pal Esme in high school. Me: Will. She: Ado Annie. Oklahoma!

Gerard Canonico
I was playing Hanschen opposite Gideon Glick as Ernst in Spring Awakening and we had to kiss in one of the scenes. As a straight man, I think it's pretty awesome that my first onstage kiss was with a guy.

Marla Mindelle
I did The Music Man in high school and the guy playing Harold Hill said he was going to slip me the tongue. He did. It's on tape and it's gross.

Ari Brand
As Georg Nowack in She Loves Me my sophomore year of high school. We had fake snow come down right when it happened, and one night it took a really long time for it to come down… we had to wait there, lips locked. There are worse problems for a girl-crazy 16 year-old.

Michael Arden
If I recall correctly, it occurred during a middle school production of Seven Brides for Seven Brothers in Midland, Texas. I kissed one of the seven, though I can't quite remember which Bride.

Robin de Jesús
Sharifa King in my community theater production of Cleopatra, A Life Unparalleled: The Musical. I played Julius Caesar and Sharifa was Cleopatra. I was soooo awkward.

Sean Hayes
First - a wink and a smile. Then I make my move.

Krysta Rodriguez
I was playing Marian in The Music Man in high school, and I had to kiss Harold Hill. It was my first stage kiss and his first kiss ever! We had to choreograph it very specifically so that it didn't look too awkward.

Matt Doyle
Andrea Miller. We kissed in a production of Carousel I did when I was in ninth grade. I was Billy Bigelow, and she was Julie Jordan. The kiss was so awkward, our director set aside an extra half hour to rehearse it. I was mortified.

Aaron Tveit
My ninth grade production of Little Shop of Horrors