Curtain to Come Down on Colony, Famous Times Square Music Store
Photo by Joseph Marzullo/WENN
The closure of the store in the famous Brill Building at 49th Street and Broadway is due to "increased expenses, decreased sales," Turk said bluntly, citing the explosion of online purveyors of sheet music and recordings. Colony has an online sales arm that will also fold, Turk said, explaining that he would need to put more money into it than he thinks he would ever gain.

"The digital age completely changed the business," he said. Amazon.com and other sites — including competing boutique sites like playbillstore.com — continue knocking out brick and mortar, mom-and-pop shops like Footlight Records, Coliseum Books and Gotham Books, where staff members had encyclopedic knowledge of inventory. Turk has 15 employees in the 5,000 square-foot Colony, whose facade has long been known for its neon signage and tagline "I Found It at Colony." The store is open 365 days a year. (It closes early on New Year's Eve.)

Tower Records, Borders and Virgin — stores that offered Colony competition over the years, primarily in the record department — preceded Colony in death.

The business was founded by the fathers of Turk and his business partner Alan Grossbardt. Sidney Turk and Nappy Grossbardt opened Colony at 52nd Street and Broadway in 1948, catering to jazz musicians and theatre people in the vibrant midtown jazz, cabaret and theatre scene. The business later moved to the Brill Building, known for being a creative hive for pop writers like Neil Sedaka, Neil Diamond and Carole King. Neil Diamond treasured it. James Brown dug it. Child prodigies bought classical sheet music there.

The store survived seismic changes in the industry. You used to be able to buy hit singles — 45's — there. Then came albums. Then CDs. Always, there was sheet music. For many years it was the go-to place for the latest Broadway cast album. For visitors to New York City from places that didn't have easy access to show albums, particularly obscure discs, it was heaven.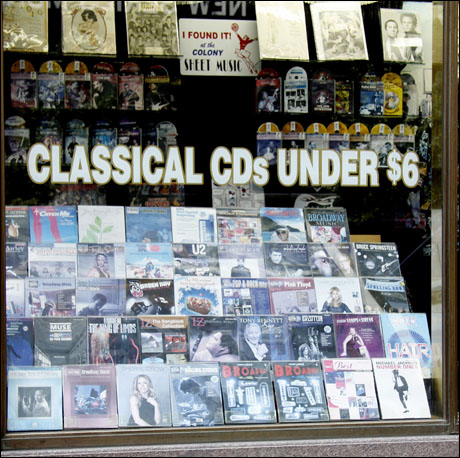 photo by Joseph Marzullo/WENN