Diane Paulus, Gypsy Snider and Chet Walker Take Pippin to New Heights in Cirque-Inspired Broadway Revival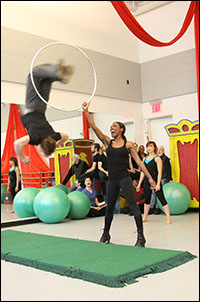 Photo by Joseph Marzullo/WENN

"Diane often says that she's looking for a visceral experience with this show, and so it seems only natural. Circus is that," said Snider on accenting the musical with acrobatics. "When Pippin says, 'I want to be extraordinary,' and he sees people flipping over his head, we see it, too. We feel it, too. We want to jump, we want to leap, we want to fly, we want to run away and join the circus. It really lends to the storytelling of the show, and I think, in a very guttural way. The audience is just sitting there going, 'Huh! Oh my God, that was amazing. I want to do that!'"

As the cast and creative team members of the new Broadway production gathered uptown at the Manhattan Movement & Arts Center to present members of the press with a sneak peek of Pippin, it was evident that being "extraordinary" — the show's core and central theme, as expressed by Paulus — was not just a wish, but more of a matter of life and death.

"You know, every trick that you see in circus — it's all death-defying," said leading lady Miller. "They know that they can fail, but it's about wanting to do it. It's about going that far. How far will you go to do it and not be afraid of failure?"

"I think if Fosse was around to know that circus was being combined with his movement…he'd be really excited, and I'm certain he'd have some things to say about it, too!" added Matthew James Thomas, who plays the show's title character. "Chet is our Fosse. He's bringing everything from Fosse — from his memory of being in the original production of this show — and helping us realize it. I think we all feel that he is with us."

"It's one and the same," answered choreographer Walker, who was posed with the task of fusing the elements of circus and Fosse. "I guess everyone wants to [think], 'Well, you have to draw the line,' but you don't draw it. It actually folds in really, really well. When you look at some of the early stuff that Mr. Fosse did, he was doing backflips. He himself was doing that! Look at Damn Yankees. There was just so much of athleticism in what it is that he did, and there was also the sensuality… In numbers you saw today, it kind of melds together."