Diane Paulus, Gypsy Snider and Chet Walker Take Pippin to New Heights in Cirque-Inspired Broadway Revival


*
"Join us," sings the Leading Player at the top of the show, immersing the audience in the medieval world of Pippin and taking the musical's protagonist on a journey to find his "Corner of the Sky."
This time, though, Tony nominee Patina Miller, as the show's female ringleader, is inviting theatregoers to the circus — the setting for the re-imagined revival of Pippin, beginning performances March 23 at Broadway's Music Box Theatre under the direction of two-time Tony Award nominee Diane Paulus.
"I knew I couldn't do the revival [of Pippin] until I understood how to do the physical production," explained director Paulus. "I was searching: 'Who are the players?' — Pippin is about a troupe of players — 'Who are they? Who are these mysterious people who come to town and plunk down and tell the story to the audience?' I started thinking about circus and that mystery of a circus troupe that comes to town and pitches a tent, and they kind of invite you in — you know, they dare you to enter that tent — and then you see things you've never seen before… When I talked to Gypsy Snider of [Montreal-based circus company] Les 7 doigts de la main, she said, 'The life of an acrobat is how far we go to be extraordinary,' which is the theme of Pippin, and when I talked to [choreographer] Chet Walker, who said Bob Fosse loved [director Federico] Fellini and was thinking about circus when he made Pippin, I [thought], 'Light bulb!'"
With the help of Chet Walker, the show's choreographer — and former cast member of the original 1972 Broadway production of Pippin — who worked alongside Tony-wining choreographer Bob Fosse, and Les 7 doigts de la main's Gypsy Snider, who incorporates circus choreography and acrobatics, Paulus' vision for Pippin began to take shape.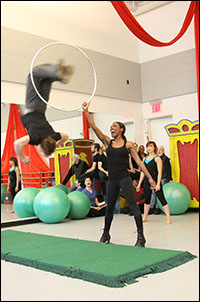 Photo by Joseph Marzullo/WENN

"Diane often says that she's looking for a visceral experience with this show, and so it seems only natural. Circus is that," said Snider on accenting the musical with acrobatics. "When Pippin says, 'I want to be extraordinary,' and he sees people flipping over his head, we see it, too. We feel it, too. We want to jump, we want to leap, we want to fly, we want to run away and join the circus. It really lends to the storytelling of the show, and I think, in a very guttural way. The audience is just sitting there going, 'Huh! Oh my God, that was amazing. I want to do that!'"

As the cast and creative team members of the new Broadway production gathered uptown at the Manhattan Movement & Arts Center to present members of the press with a sneak peek of Pippin, it was evident that being "extraordinary" — the show's core and central theme, as expressed by Paulus — was not just a wish, but more of a matter of life and death.

"You know, every trick that you see in circus — it's all death-defying," said leading lady Miller. "They know that they can fail, but it's about wanting to do it. It's about going that far. How far will you go to do it and not be afraid of failure?"

"I think if Fosse was around to know that circus was being combined with his movement…he'd be really excited, and I'm certain he'd have some things to say about it, too!" added Matthew James Thomas, who plays the show's title character. "Chet is our Fosse. He's bringing everything from Fosse — from his memory of being in the original production of this show — and helping us realize it. I think we all feel that he is with us."

"It's one and the same," answered choreographer Walker, who was posed with the task of fusing the elements of circus and Fosse. "I guess everyone wants to [think], 'Well, you have to draw the line,' but you don't draw it. It actually folds in really, really well. When you look at some of the early stuff that Mr. Fosse did, he was doing backflips. He himself was doing that! Look at Damn Yankees. There was just so much of athleticism in what it is that he did, and there was also the sensuality… In numbers you saw today, it kind of melds together."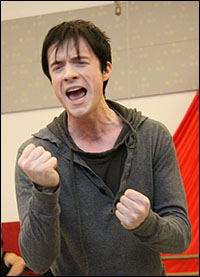 Photo by Joseph Marzullo/WENN

The troupe of Pippin previewed "Glory," led by Miller, and "Corner of the Sky," performed by Thomas, as well as moments from the beginning of the show. Audiences can expect more than just backflips (think Cirque du Soleil for musical theatre) from the entirety of the cast, including the show's Leading Player.

"I knew we had to have a Leading Player who could not only sing, but who could dance — like really dance — and, of course, act, so that led to a search to find the most dynamic, charismatic, powerful, seductive, triple-threat performer," said Paulus. "We saw men, we saw women, we saw every type of performer, but the choice was clear — Patina Miller is a force of nature. Little did I know that she was also a gymnast in her former life, so she's on the trapeze in our production. She is fearless, she is determined, she is the quadruple-threat that is defined by this production."

Thomas, too, will be performing his fair share of stunts. "Fortunately, being Pippin, there are lots of [tricks] that make sense with him because he's on this quest for fulfillment," he shared. "What better [way] than jumping off a high wire or trying a backflip or walking on a high pole…? That [is] — in a very physical, but also metaphorical, way — a great explosion of decision and choice… It's hard to imagine the show without it."

Miller added, "Bringing that heightened element into our show really just informs my character, and I think everyone on stage. How far will we go to tell the story tonight? … Hopefully, by the end of the show, someone will want to join our circus."

(Playbill.com staff writer Michael Gioia's work appears in the news, feature and video sections of Playbill.com. Follow him on Twitter at @PlaybillMichael.)