DIVA TALK: A Chat with Dutch Actress Willemijn Verkaik, Star of Broadway's Wicked


Willemijn Verkaik
There is a new "green girl" in town, and her name is Willemijn Verkaik, the Dutch actress who has the distinction of playing the role of the misunderstood, not-so-wicked witch Elphaba in the hit Stephen Schwartz-Winnie Holzman musical Wicked in three languages: Dutch, German and, now, English. The acclaimed singing actress, who flew into the Gershwin Theatre in February, is making her Broadway debut with a limited 15-week engagement.

Verkaik has played the green-faced witch for over 1,000 performances in both Germany (Stuttgart and Oberhausen) and Holland. In fact, she was awarded the Musicalworld Award for her performance and also received the 2009 and 2010 Readers' Choice Best Musical Actress Award from the German magazine Musical. Her other musical credits include Joop van de Ende's production of the musical Elisabeth; the world premiere of the musical 3 Musketiers; the Dutch Army-Orchestra's Eternity; Killer Queen in We Will Rock You in Cologne; and Amneris in Aida at the Open-Air Theater of Tecklenburg, for which she received the Da Capo Award for Best Musical Performer.

Composer-lyricist Scott Alan, who is currently preparing for a reading of his Broadway-bound musical Home, had this to say to me about Verkaik: "I have had the distinct honor of working with Willemijn on a few projects over the past couple of years — joining her as her special guest in both her Germany and Amsterdam concerts as well as having her record on my last two album releases — and it still surprises me every time that she opens up her mouth to sing. Her voice is filled with layers of emotion and depth, and it often feels like there is no end to where she is able to take a song. It's voices like Willemijn's that writers like myself dream to write for. On a personal note, she is just as kind as her talent is raw. I treasure her (and her husband Bart) just as much a friend as I do the great artist that I get to have the pleasure singing my music."

Last week I had the chance to chat with the Wicked star; that brief interview follows.

Question: Since we haven't spoken before, let's start from the beginning. Where were you born and raised?
Willemijn Verkaik: I was born in Holland in a little town in the south of Holland and raised there also.

Question: At what age did you start performing?
Verkaik: I think I was 14 years old… We had an anniversary in the school I was in, and some people at the school got to join the celebration, and we played music for the whole school, so that was the first one.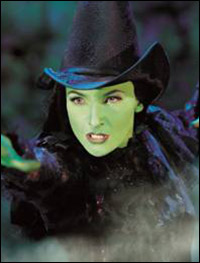 photo by Brinkoff-Mogenburg
Question: Were there any artists or singers or actors that you particularly admired growing up—anyone who influenced you?
Verkaik: Well, in musical theatre, I always—but who didn't?—admired Barbra Streisand, but I was also very into the pop world, and then I was a big fan of Whitney Houston also. [Laughs.]
Question: Do you remember when performing changed from a hobby—something you did for fun—to when you knew or wanted it to be your profession?
Verkaik: Well, I had my first singing lesson also when I was 14 years old, and then I already started to have the biggest wish and the biggest dream like, "Wow, this would be great if I could do this for a living." And, I think when I was 16 years old, I joined a band, and I think from then on, I was just like, "If this could be something I could do always, then that would be great." The dream just got bigger and bigger. [Laughs.]
Question: What was your first major professional production?
Verkaik: The musical theatre production was in Holland. I joined a production Elisabeth, and that was about the Austrian empress, and that was in, I think, '99.
Question: When did you first get involved with Wicked because I know you have a long history with the show?
Verkaik: Yes. I started the show in 2007, when it got to Stuttgart in Germany, and I was chosen to be the first-cast Elphaba there.
Question: Where else have you played the role?
Verkaik: That production was for two years, and then it moved up to Oberhausen in Germany also. That was one year, and then it moved to Holland—I did that one year—and now I'm here.