DIVA TALK: A Chat with Dutch Actress Willemijn Verkaik, Star of Broadway's Wicked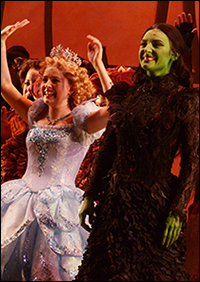 Photo by Monica Simoes

Question: How did this Broadway engagement come about for you?
Verkaik: Well, the American creative team was involved from the beginning, so everyone already knew me, and they cast me also for the German production, and they just followed my year journey, and we met every time they came and watched the show again. Maybe it's some sort of icing on the cake of my Wicked career, having played it so long, and they just asked me to come here for a few months, so yeah, I'm very happy about that.

Question: Was playing Broadway a goal of yours or was it something that didn't even occur to you?
Verkaik: Everyone is like, "Oh, well, Broadway is like the main, biggest achievement." And, of course, I knew it was running here, and it's running so well… I was really, of course, dreaming about one day coming here, so it came true.

Question: Now that you're here, I wonder how does your dream of it or what you imagined Broadway to be like—how does it either live up to it or how is it different from what you thought it might be?
Verkaik: It's actually a lot of what I expected because this show is running so well here, and the audiences—they know the show so well, the music so well—and it's such a big hit. It's so great to be a part of such a big success here, so yes, everything I hoped it would be.

Question: You've been playing the role for a few years now. What are the challenges of the role?
Verkaik: Well, you know, it's one of the toughest roles in musical theatre, I think, for a woman to play because it's a very emotional journey, but yet you also have to have the vocal range. The challenge is to every day do that again and have that stamina and be able to go through all of the emotional stages that she goes through. That's hard work, and you have to do that eight shows a week. It's a challenge. Because it's also so rewarding, and it makes the challenge really great to take on every night.

Question: Do you have a favorite moment in the show for Elphaba? Is there something that you look forward to playing…
Verkaik: Well, I mean, I couldn't not say a lot of the scenes are great, but I always enjoy a very little scene, which is between Fiyero, Glinda and Elphaba. It's the train station because it's so awkward, and I always enjoy that. It's just a tiny moment, but it's such a sweet moment, and I always love, love to do that.

Question: You've sung the role in three different languages. Have you ever been confused and started singing something in the wrong language?
Verkaik: Well, it happened one time in Holland because German and the Dutch language are very similar. Sometimes the sentence will be almost exactly the same, it's only pronounced differently, so there was one time that I started to say the German sentence, and then I just very, very quickly translated into Dutch, which was not the right text [as] written, but it made sense! [Laughs.] But, yeah, of course, because everything—the songs, the music—it's all so similar, so you can easily make that mistake, but knock on wood, it didn't happen that much, so that's okay.