DIVA TALK: A Chat with Dutch Actress Willemijn Verkaik, Star of Broadway's Wicked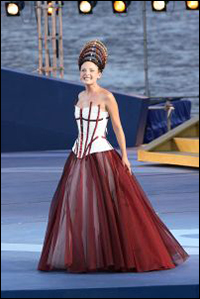 Photo by P. Bärtschi / ThunerSeespiele
Question: Since you have played the role around the world, why do you think the musical has been so successful everywhere it's been?
Verkaik: Well, apart from that, the music is great, and the staging and everything is so fantastic. It's also the story that people can relate to. I get a lot of people writing me letters or after the show at the stage door telling me that they can recognize stuff in Elphaba in their own lives. People connect to that—to that feeling different—maybe one moment in their life or maybe for a longer period. And, I think that is something that everyone in every country—it doesn't matter where you come from—you can recognize that, and that's why I think it works so well.
Question: How long are you scheduled to stay with the Broadway production?
Verkaik: I'm here until the end of May, so I have two whole months to enjoy it.
Question: Do you have other projects in the works?
Verkaik: I'm talking about a few stuff, which I cannot tell anything about, but it'll be in the theatre. It'll be in Europe again, so I'm very much looking forward to that also.
Question: Have you gotten the chance to explore New York while you're here? Have you been here before?
Verkaik: Yeah, I've been here as a visitor a few times, so I know the main things, and when I started working here, I didn't have the chance at all to go and see stuff because it's just a lot, and I need to save my strengths for the show. But hopefully, you know, the sun is shining, and the weather is getting better, so hopefully I'll get the chance to do some more.
[For tickets visit WickedtheMusical.]
Well, that's all for now. Happy diva-watching! E-mail questions or comments to agans@playbill.com.