DIVA TALK: A Chat With Motown The Musical Star Valisia LeKae


Photo by Joseph Marzullo/WENN
Question: What was your Broadway debut?
LeKae: My Broadway debut, which I really, really loved was Threepenny Opera, and I was very fortunate because Broadway, for me, has served as a sort of conservatory because I did not go to school for this, so I had to learn the ropes of really honing my craft on the Broadway stage. So the people who were in my show were legends of legends. I got to work with Cyndi Lauper, who I grew up listening to her music. And, I was the dance captain of the show, so to work with her side by side, and Alan Cumming, who is amazing at what he does every time he hits the stage. I was so thrilled, and I learned a lot from him. And, Ana Gasteyer, who was an "SNL" alum and an amazing singer, which on "SNL" you really see her do all this funny stuff, and you don't really get to really see her, but this woman has a voice like no other, and Nellie McKay, who was very, very new to the Broadway stage, but one of the smartest, most gifted people that I know. And, she is such a woman of class, and I love her because of her style and the way she is. She's very unique, and she loves vintage clothes, and so did I. I just fell in love with her. And then there was the epitome of all—Jim Dale. To watch this man work at his age—I may be wrong, but I think he was 70-something when we were doing this. He had the most energy probably out of us all! He is a professional at best. He is everything and more, and I watched him work, and I thought, "Okay, there's no way that God could have put me in a better place to learn about theatre than this show right now." And, he was also doing the characters of the "Harry Potter" series at the time because he does the books. I remember one day walking into his dressing room, and he had his legal pad and like 100 different characters on them, and just being very diligent about his work and everything with this show and that. I thought, "Oh my God, I will never get a chance like this again," and then I got into my next Broadway show, [110 in the Shade], and then Audra McDonald showed up! [Laughs.] I feel like I got the best teachers along my journey, especially with my first show because it was a bit of music people coming together doing the stage…and I got a really amazing lesson, and it just got better and better from there on.
Question: You were also in Book of Mormon…
LeKae: Yeah, before this show I was in Book of Mormon, which was an experience like no other. I came into this show a month or so after they opened, and they weren't releasing the scripts or anything, so when you auditioned for it, you didn't know what you're getting into. And, I heard all these stories about everything. So when I got to it, I remember seeing it, and I thought, "Oh my God, I wish everyone in the world could experience this right now." For two-and-a-half hours I forgot about everything. I cried laughing, and I remember there was someone in my life at that time who was going through something. She had cancer, and she was dying from it. And, I thought, "If she could see this show"—and I know it sounds extreme—but I thought, "If she could see this show and laugh"—excuse my French—"her ass off, for two-and-a-half hours, everything could just be washed away." And, that show did so much for me because it was so funny and so brilliantly written, and what those guys did…working so hard at getting that script together and starting from 26 pages and getting what they did to happen on that stage, and those two leads—Andrew [Rannells] and Josh [Gad]—carrying that show and being so amazing, and Nikki [M. James], whom I've admired for years, just being the beautiful soul that she is on and off stage. I really was in heaven. And, to have my year to experience that. It was out of nowhere for me. I just couldn't have asked for a better experience right before this one.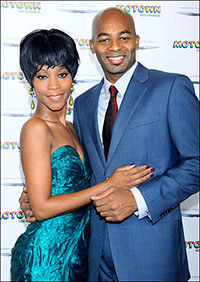 photo by Joseph Marzullo/WENN

Question: How did Motown come about?
LeKae: Motown came about in January of 2011. I heard about them having auditions for this show, and I remember e-mailing or calling my agent and saying, "You have to really get me in for this because, you know, I am Diana Ross." [Laughs.] And, they're like, "Okay. I hear auditions are coming soon," so I was like, "Okay." I gave him a week, and I think by then he emailed me the sides and what the character breakdown was, and I immediately went into my obsession with trying to find out everything, and I had my one audition with the director and the musical director at the time, and he was looking at me and saying, "Are you doing something with your voice because you have all these 'isms' and you sound like her?" And, after that audition, I know they called my agent… I can't remember if I went in again or not, but I remember it being sort of an easy process because it's rare that we get those. Most times, I hear stories where people have gone in seven times, but it wasn't like that, and I remember talking to my agent again, and I was reading a page [from the musical], and I was like, "I'm reading page number whatever, and I am this woman, so when you call me back just tell me I got the job. That's all I want to hear from you from here on out!" [Laughs.] So when he did call me when I got the job, I remember being on Eighth Avenue and just jumping and screaming and being so happy, and I remember before we started the reading, the director, Charles [Randolph-Wright], called me because he was at my first theatre audition ten-plus years ago, and it was sort of kismet how we were reunited with this process, and that was two years ago. And, yesterday, we—I'm about to cry saying it—but yesterday, two years later, we finally got to bring it to the Broadway stage, and it has been a labor of love, but, my God, I can't imagine any other way I would've been spending my last two years.

Question: What was your history with Diana Ross in terms of being a fan and knowing her music? How far back does that go for you?
LeKae: It goes back to when I was a very little girl because we played her albums. We played albums of Motown—the Jacksons! Anybody and everybody… Marvin Gaye. We played Motown in our house. My grandfather also had a salon where he played it in his salon because he had a jukebox, and he still has that jukebox until today, and my mother bought the albums for that—the 45s for the jukebox—so I would go to Pop Tunes Record Store with her and go down the aisles. At that time, you could pick an album and play it on the store's jukebox to listen to it, so I remember that very vividly. It was everywhere, so growing up I remember doing some of Diana Ross' songs. I remember when I was in junior high or high school, I did the "T.C.B." medley for the local state fair, and I remember having two white girls as my backup singers. We did "T.C.B. Stop whatever you're doing. Hold it right there…" and had black dresses with the white rhinestones on it, and I remember that. And, I used that same medley for the women's choral audition at my university—didn't get in, but who cares! I did that medley anyway, and I remember doing it in my high school for an Omega Psi Phi scholarship, and then winning the regional and going onto the state and winning with that medley, and being at Dollywood and performing "Stop in the Name of Love," and being at Libertyland in high school—my local theme park—and not only playing Diana Ross, but I went from one number playing Diana Ross, singing "Ain't No Mountain High Enough," to turning around, doing a quick change, and doing a Jackson Five medley, playing Michael Jackson. [Laughs.] I went from the long hair to the afro in a matter of five minutes. Everything in my life has sort of prepared me for this moment, even when I didn't realize it was happening, and I look back on my life, and it's sort of crazy.