DIVA TALK: A Chat With Motown The Musical Star Valisia LeKae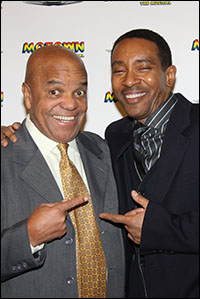 Photo by Joseph Marzullo/WENN
Question: How involved was he in the rehearsal process? Did you get a chance to speak with him?
LeKae: Oh! [Laughs.] Oh, yes. Berry Gordy, Jr. has been at every rehearsal since Day One. He has been a part of this process since Day One. We talk extensively. Brandon [Victor Dixon] and I went out to his house in L.A. after we did the first reading… I'd gotten so comfortable with him that I felt like I was home. I felt very comfortable being there. I'm very comfortable with him. I love him madly, truly, deeply, and I love spending time with him, and throughout the rehearsal process he was there. He was very much a part of this. I remember this story… We were at his house in L.A., and we were going to watch videotapes—and I had done my research on a lot of the things that [Diana Ross had] done—so we were sitting in his movie screening room, and he starts to play a series of things, and before they would start or the second they would start, I would know every particular place, where they were, what she was wearing, what she was going to sing, and he looked at me and was like, "Oh! You actually know what you're doing?" And, I said, "Of course! I'm sitting here with Berry Gordy. I have to know something!" But we would have conversations, and I wanted to make sure that I came in with the knowledge so that when I got with him I would not be wasting his time. I had so much to ask him, and I remember he'd say to me, "Who are you? Barbara Walters?" [Laughs.] Because he would be like, "You know so much, and you're asking me so many questions." But he was that available to us. We all got to meet with him the first time we did the reading, and now when we see each other, we're like old friends. We talk about everything, and we're very comfortable. I share my heart with him, and he's in that script every single day, and for this man to be 83 years old, he has so much energy, and I really don't understand how he does it because at the end of the day I am so tired, but he's like, "Let's go again!" So he is there, and I really want people to know that he is working very hard, and he has been there since Day One. He is not removed from the process; he is the process, and he allows it to be a part of him, and he is working very hard to serve the people, and he wants it to be the best. Even after last night—I was with him—he was like, "On this, you can do this better, and you can sing this, and you can bring the people in here, and reach out and…" I was like, "Berry, it's midnight, and you have too much energy for right now," and he was like, "No, no… We just continually want to make it better because I want this to be the greatest thing ever," and I truly believe that he does, and he will make that happen.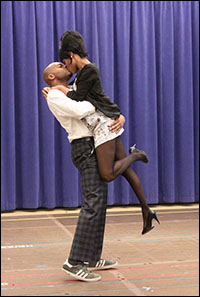 photo by Joseph Marzullo/WENN

Question: What was that first performance like for you?
LeKae: You know, it's weird because once you go into the zone, there's a lot of things I don't remember, but I don't come on stage until like 20 minutes into the show… I remember hearing the crowd cheer once someone was introduced as Smokey Robinson and Marvin Gaye, which happens at the very top of our show. The people were cheering as if Smokey Robinson and Marvin Gaye showed up on stage… A lot of us aren't big, mega superstars or five-time Tony Award winners. We aren't that, but the fact that the audience was with us from the start of the music, and when they saw the people who were portraying Marvin Gaye and Smokey Robinson—to know that they were worthy enough already to receive an applause on entrance—was crazy to me. I don't know if that's going to happen every day, but to have that moment, at that moment—listening to it from backstage—it was such a blessing. From what we got from the audience at the end of the show—the applause—and people seemed very happy, loving the music throughout, and laughing and everything and singing along, and, from what I hear from the ushers, dancing in their seats or in the aisles, I think we're on our way to something great.

Question: What would you think if Diana Ross came to the show?
LeKae: Well, for me, I said to myself, "When we start performances, to me, every night Diana Ross will be in that audience." I will never allow myself to think Diana Ross is not in the audience, but I think she would be so proud of Berry and so happy for him. Having Suzanne de Passe there last night, she was so emotional, and she's a good friend of Diana's, she was so emotional and so proud. I think [Ross] will share the same sentiment—she has such a great love for this man and such a great love for what he's done for her and everybody else that she would be proud of what he's put on the stage, and I think she would be happy with everything. And, I would hope that for her, but I truly adore and love her and love what she's done for so many people that I want to be as honest with my performance, and I would hope that she would recognize that.

[For tickets visit Telecharge.com. Visit MotownTheMusical.com.]

Well, that's all for now. Happy diva-watching! E-mail questions or comments to agans@playbill.com.