DIVA TALK: A Chat With Murder Ballad Star Rebecca Naomi Jones


Rebecca Naomi Jones
Rebecca Naomi Jones, who has been seen on Broadway in Passing Strange and American Idiot, is currently playing Murder Ballad's Narrator — a role that earned her a Lucille Lortel Award nomination for the show's initial Manhattan Theatre Club run — in the return engagement of the new musical at the Union Square Theatre. The limited run of Julia Jordan and Juliana Nash's acclaimed musical, which was recently extended through Sept. 29, also features John Ellison Conlee, Will Swenson and Caissie Levy with direction by Trip Cullman. It's an especially busy time for Jones, who will take a brief leave of absence from Murder Ballad to be part of The Public Theater's Shakespeare in the Park production of the new musical adaptation of Love's Labour's Lost July 23-Aug. 18. That musical features a score by Michael Friedman and a book by two-time Tony nominee Alex Timbers and casts Jones in the role of Jaquenetta. Earlier this week I had the pleasure of chatting with the multitalented singing actress, who spoke about her current and upcoming roles; that interview follows.
Question: Since we haven't spoken before, can you tell me where you were born and raised?
Rebecca Naomi Jones: I was born and raised in New York, NY.
Question: When did you start performing?
Jones: Pretty early on. My dad was a musician, so I grew up playing the piano and singing, and I guess the earliest thing I remember doing was being a part of the Metropolitan Opera Children's Chorus. I think I was around seven. I would go to rehearsal twice a week, and we'd be selected for different operas and be the kids in the opera. I did that for a while, until I got too womanly [laughs] and couldn't be a kid anymore. I also sang in synagogue and church choirs growing up because I'm half black and half Jewish. But I think the opera was the first thing I did.
Question: When you were growing up, were there any actors or singers you particularly admired?
Jones: When I was really little – this is so shameful – I was just obsessed with Paula Abdul [laughs]! Tragic. But, of course, my taste expanded and got richer as I grew up. But even though I loved theatre – I started doing theatre in middle school and I loved doing it because of being with my friends, and the community and telling stories and dressing up and being in rehearsal and putting this thing together – and that was really what got to me more than idolizing someone. That's not to say I don't have people who I think are amazing, but I didn't come about it from that angle.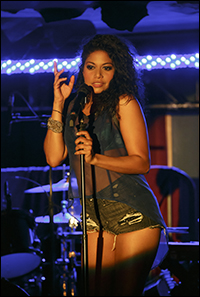 photo by Joan Marcus

Question: When do you think performing changed from a hobby to when you knew it was going to be your career?
Jones: I think it was when I was getting ready to look into colleges. I did theatre all throughout middle school and high school and was really into it, the same with singing. Those were the places I felt most like myself and most comfortable. I happened to be going to this small private school in Park Slope, Brooklyn, which was really more Ivy League-geared than anything else. Most of my classmates were planning on going to all these Ivy League schools, and if not Ivy League schools, then really nice liberal arts colleges. And, I think what really shifted my reality into knowing that this was something I could do for my life was when I met with my college counselor, and he told me that conservatories existed. I just hadn't known that before and had been planning on going to a liberal arts college and doing my art wherever I could. I think I always knew that I was going to be in the arts, but I didn't realize that I could go and focus on that as soon as I got out of high school. I think I was just really lucky to have this college counselor who knew about those schools because nobody else in my high school was going to do that. So I started looking at monologues and auditioning for these conservatories and ended up going to a conservatory for college, and that just changed everything.

Question: What was your first professional production?
Jones: My first professional production out of school was the non-equity national tour of Rent, which was actually a lot of fun at the time. The best time to do something like that is when you're really young, really excited, and you don't care that you're not getting paid a lot and you're doing so much traveling on a bus, because you're just so happy to sing and travel and be with cool people and do something that you think is so sexy. [Laughs.] So that was my first gig out of school, and then I don't really remember, but pretty soon after that was Caroline, or Change.