DIVA TALK: A Conversation With Four-Time Tony Nominee and Bridges of Madison County Star Kelli O'Hara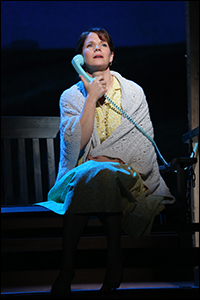 Photo by Joan Marcus

Question: You mentioned having other characters on the stage watching you the whole time. What is that like for you as an actor?
Kelli O'Hara: It's funny that you ask. A lot of people will say [to me after a show], "Oh, did you see the guy in the third row?" And, I'm one of those [actors] who never notices that. I somehow get completely self-involved. No, I'm kidding! [Laughs.] But I'm kind of into [the role], and I try to just be in the story. And, so for a long time, appropriately so, I didn't have [the onstage actors] as part of my periphery, but, lately, as we're kind of warming up in the show, I'm really starting to be amazed and actually in wonder, noticing where they are and what they notice and using that a little bit more. It's actually a lot of fun, and the people that are in the show, the actors, are so invested and so great, and it's actually kind of fun to see what they're doing in reaction to what I'm doing.

Question: This is your third musical with Bart Sher. How does having those other experiences affect working with him?
Kelli O'Hara: He's amazing. I have so much respect for Bart. He's really become a great mentor of mine; he's a great teacher. I love where I got a degree, but a lot of my education has come from working with him. And each time, we don't have to start over; it's like getting a masters on top of an undergraduate and then a doctorate. You don't have to go back and start from scratch; you're taking what you already learned and starting there and building on that. So when I walked in the room this time, I just knew that we were going to get right to work, and I felt like I was kind of my freest self, to argue with him, whatever it is we were going to do…I just sort of hash things out, and he listens and I listen; then, sometimes, we fight and don't agree and end up always coming to the same thought. That's pretty healthy, and it's pretty amazing to have when it's as nerve-wracking as opening a new show can be.

Question: How would you describe Francesca, and has your idea about her changed throughout the process?
Kelli O'Hara: I would describe Francesca as someone very unlike myself. Her European sensibilities and her past, what she came from, trying to escape a war-torn city with no options for her future, is something I really didn't have to deal with in my life. So I would consider her as someone who is very intriguing to me, and also I'm very sympathetic to a lot of the things that she's had to go through in her life. I feel like what I've grown to know about her is that she's probably as strong as you'd want a woman to be, but also as vulnerable and scared as humans can be.… A lot of people might not make the decision she made simply because they're stronger or smarter and they know the outcome of it. But I think she fell into something very quickly, which is hopefully not a choice that I would make for myself. But then she is able to step up and make the right one for her family, for her kids. So I think I've learned to respect her, but I think going in, I really worried about how she would be perceived and would she be a sympathetic character. Marsha listened to my concerns about, "Do I invite him in for tea? Do I invite him in for dinner? Why am I pushing this [relationship]?" I was very concerned about that because I don't think that would be something that people understand. But what I've learned to appreciate about her situation is the timing – where it was, when it was. I grew up on a farm, so I kind of know what her life was, but this was 1965, it was a male-dominated household, things like that that a lot of people today don't understand that make her make the choices she made. So, I believe in her, and I want people to believe in her and for people to know that she's a fallible character, but also one with great heart, not unlike Nellie [Forbush].

Question: We talked about your relationship with Bart Sher, but you also have recent history with Steven, having done Far From Heaven. Was that helpful in creating your relationship in this?
Kelli O'Hara: Not that, probably. …We've been friends for 15 years, so I think we've been waiting [for this kind of experience]. We did workshops and productions of Piazza together before he got his TV show and wasn't able to do Broadway. So we go way back, and I think we've always wanted to work together in this way. But doing Far From Heaven and putting us in a room together, just working together, reintroduced us in a professional way together, which was great. But I think that we were just ready to work together.