DIVA TALK: A Conversation With Four-Time Tony Nominee and Bridges of Madison County Star Kelli O'Hara


Photo by Joan Marcus
Question: What is it like sharing the stage with him and singing those beautiful songs together?
Kelli O'Hara: I think one of the words that best describes [Steven] is he's so consistent. He's the strongest, healthiest — he doesn't stand on ceremony about anything. He just comes in, does the work, it's not a big deal, and he can do it every time. His voice is always there, and I feel like for a partner that is so important, to be able to depend on. I don't have to worry about what I have to do to make sure he's feeling good. I just think we feel that way about each other. We just come in and do our work.… A lot of people ask about the chemistry between you and you and you and you, this guy and that guy. I have had amazing leading men, but not just because people think they're attractive or they're sex symbols or whatever, but honestly, Matt Morrison, Harry [Connick Jr.], Paulo [Szot] never missed shows. I'm not saying we can't miss shows for being sick. I've obviously done it, but when you work with someone like that, you know that they are dedicated to the work, and you don't feel that you are putting in more than they are and therefore you feel sorry for yourself, and you start to hold that against them. Steve is another one… [and] if we're both in it to win it, you can really trust each other.
Question: How difficult is it to play the emotional aspect of the musical eight shows a week — having to choose between the two lives and getting your mind there?
Kelli O'Hara: I will say it's been a journey because when I first started rehearsing, I was right off being with my baby for the first three months, and I was very post-partum, and all the emotions were completely accessible to me. Tears were just falling. And, when you start to do it, it grows the same, and you have to use technique and you have to learn how to keep it up. My assistant director gave me the best advice ever. She said, "You have to stay in the present." We're starting to fall into what we know is coming next, where we're going to get a laugh, or where we're going to get a cry or whatever it is. You don't really realize that you start to depend on the things that are consistent. But the only thing that is consistent is staying right in the middle of where you are onstage. Because if Steve does something different that day, and I'm not paying attention because I'm already waiting for the next thing, I'll miss a reaction I could have to that that is new and fresh. So the point is that I have to look at it differently each day, and I do. Sometimes I'm balling and sometimes it's more of an introspective feeling, and I'm hoping that they all work.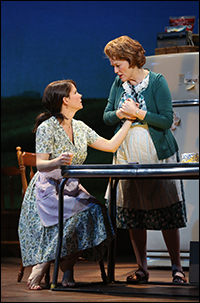 photo by Joan Marcus

Question: As interesting as your relationships are with the two men, I also found the relationship with the best friend, with Marge, really moving because she reacts differently than you think she's going to.
Kelli O'Hara: That is very intentional from the creators, especially Marsha and Bart. Marsha is a very strong, independent woman, and she wanted this to be a story about female strength and power and making your own choices. And, Bart really wanted it to be in support of Americana. He loved the idea of making this country just as special as we think it is and we want it to be. Everyone has these ideas, especially about the middle of the country, about people being backwards and three-toothed. And, I think Bart is basically saying it's funny when you ask for something what you might get back. Here's this woman that we… want you to think that's she's just this typical busybody, but you don't realize that she's one of the reasons why I can stay because I have somebody in my life like that. It's another reason why at the end of the play, everyone comes out to listen to me read the letter because they're basically saying, "Maybe we don't agree with it, but we're in support of you. You have support, even though you were far way from your home." And I think Marge, Cass Morgan, plays it so beautifully. People need people like that in their lives, and we don't trust people enough. That's one of the problems that Francesca had before she had this experience — she didn't know who she could trust, so she didn't open up to people. And now she's probably, having had the affair, she has closer relationships at home more than she ever did before.

Question: Do you have a favorite moment for Francesca? Is there something you look forward to every night?
Kelli O'Hara: Every part has its relief when I'm done with it. [Laughs.] I love the first number, but it certainly doesn't feel great going into it because it's the first thing in the show. I'm always taking a few extra breaths! So I love the first number, I love my big number with Steve, but I think something I can consistently look forward to because it doesn't have the pressure of, "Will we land this?" I was talking to him about this the other day. I love when we just sit and make dinner and Whitney Bashor is just singing her song. It's the moment that they're clicking and connecting. I'm from a big family of cooking, and meals mean a lot to me, and I just find that moment as being very realistic and fun.