DIVA TALK: A Conversation With Four-Time Tony Nominee and Bridges of Madison County Star Kelli O'Hara


Kelli O'Hara
Kelli O'Hara, a four-time Tony nominee for her work in The Light in the Piazza, The Pajama Game, South Pacific and Nice Work If You Can Get It, is once again back on Broadway, sharing her glorious soprano and unique talents in the new musical The Bridges of Madison County, based on the Robert James Waller novel (and the subsequent Meryl Streep-Clint Eastwood film) of the same name. Truth be told, this writer was unfamiliar with either previous version of the property, yet I was completely swept away by the ill-fated love story that is at the center of this emotionally fulfilling evening at the Gerald Schoenfeld Theatre. The production, one of the best musicals of the current season, boasts a gorgeous score by Tony winner Jason Robert Brown and a compelling book by Pulitzer Prize winner Marsha Norman, but it is the performances of O'Hara and co-star Steven Pasquale — in his long-awaited Broadway musical debut — that send this show soaring. O'Hara is in particularly fine form, offering what may be her best performance to date: She is funny, touching and intriguing, and her limitless voice is as colorful and beautifully shaded as ever. She is also well-matched by the ruggedly handsome Pasquale; in fact, their onstage chemistry is palpable. I recently had the pleasure of catching up with the mom of two, who spoke about her latest Broadway outing, her third directed by Tony winner Bartlett Sher; that interview follows.
Question: When and how did you originally get involved with The Bridges of Madison County?
Kelli O'Hara: I think it will be four years. Jason [Robert Brown] called me, and he said that he and Marsha Norman were working [together] and had an idea for a project … and he wanted to write music for me the way that I wanted to sing, which is pretty amazing. [Laughs.] Steven [Pasquale] said one time in an interview that it could have been called Poop: The Musical, and he would have done it just based on who was involved. [Laughs.]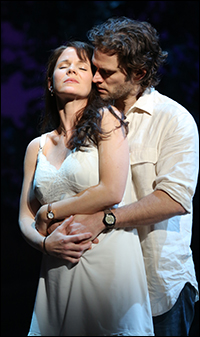 photo by Joan Marcus

Question: Were you familiar, at that time, with either the novel or the film?
Kelli O'Hara: I don't think I've ever seen the film, although now I've watched some clips because I would be stupid not to understand what the master did. [Laughs.] I saw some YouTube clips, and I read the book when I was a teenager. I remember being blissfully … well, it was very sordid. I was sitting there as a preteen probably going, "Oh my gosh, what is this?" [Laughs.] But I hadn't really revisited it. … Steve and I recorded some of it as a publicity thing for an audiotape, and reading it then made me blush. It was kind of interesting to read it as an adult, but as a kid I thought, "Woooo this is great. I want to keep reading."

Question: How much has the show changed over the years? Explain what the process is like.
Kelli O'Hara: It's been pretty amazing. The first reading we did was only one act, as is pretty normal. But the music was very much in that feel of that kind of rustic country music, what Steve sings, which is just so beautiful. I remember looking at Jason and saying… [that] Francesca needs a voice. So we went from that type of [music] and one half of a [show], until the very next reading came all of this [other music] — like the opening number, which, to me, is one of my favorite things I've ever gotten to sing. He just showed up with it. So, between the first reading and the second reading, the genres of music were completely added to and enhanced. We had so many other songs that have been cut, we have songs that have been added, and we've had characters that have been added. The first reading or so there was no sister, Chiara. I often say to people, "In plays and musicals we have a lot of backstories that we know of, that we try to have layers of inside of ourselves when we're performing, but in this production, we've brought them onstage with us." I feel like over the time of the past four years, we have been adding our backstories. Marsha was adding that backstory into our book, and Jason was writing music to support that. You have the neighbors and you have the people that are watching, the watchful eyes, and I just feel like it's a process of growth. But, also, you can start off with an entire thing, and have it completely cut to pieces and rethought. But I think they knew the direction they were going from the very beginning. It seemed very smooth.