DIVA TALK: A Conversation With Four-Time Tony Nominee and Bridges of Madison County Star Kelli O'Hara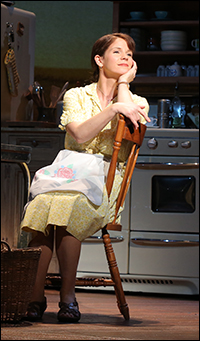 Photo by Joan Marcus
Question: How do you protect your voice so that you can sing that score eight times a week? How demanding is the score?
Kelli O'Hara: Right now I'm pouring myself a cup of coffee as we speak, and that is absolutely forbidden. I'm not supposed to have coffee, but I'm like, "You know, I better have a cup of coffee, I better do it." [Laughs.] It seems like [this show] would be more taxing, but because it's the way I feel best singing, that's not really what has been taxing. Mostly I think that you can do your show because it becomes like muscle memory – but you have to keep yourself healthy. I can't drink a lot and don't smoke, and I try to exercise and I try to do some physical stuff, and I try to stay pretty healthy. But I think the main thing right now and one of the reasons why I'm vocally tired is that you need to get sleep, and since my baby was born, it's just a little impossible.
Question: How has it been combining new motherhood with this show?
Kelli O'Hara: Well, I'm not going to say it's been completely easy, but like I said before, it's so rich right now. I feel so rich in my emotions and in my life and so grateful when I'm home and so grateful when I'm at work. It's kind of a heightened version of everything, and I'm not going to curse that. I feel like it's a very lucky place to be. My fatigue is sometimes hard, but I feel like it's all worth it right now, and I'll sleep later. It's not easy, but it's the most rewarding time I've ever had, and I'm not going to do anything but be grateful.
Question: This may be a silly question, but do you have any other projects in the works?
Kelli O'Hara: I have a couple of projects that I'm pretty excited about. I'm going to do my first Metropolitan Opera gig, which has kind of been my dream. For New Year's Eve next year, The Merry Widow, with Rene Fleming and Nathan Gunn and Susan Stroman. And then I'm in talks for doing The King and I.
Question: You've done less TV and film than some of your contemporaries. Has that been a conscious choice to focus on theatre — because you've done so much theatre? Is that what you enjoy most or where your path has taken you?
Kelli O'Hara: I know that theatre is definitely my love and my first priority — I mean, that's easy. But I honestly think the difference between doing a lot more TV and film for me has been auditioning, and I stopped auditioning because I'm a mom. It's a choice that I've made. When I've done TV and film, when it's offered to me, I loved doing it, and I would do it again, but the ins and outs of auditioning is – that's time away from my kids. If I'm already working at the theatre and I'm already working a job, I can't really afford to have two jobs and have kids, and auditioning is a job. If I wasn't doing a play or a musical, I would start auditioning again maybe. I've gotten things before and wasn't able to fit them in my show contract, and things haven't worked out and I kind of just toss it up and say it just wasn't meant to be. I think that there could be some more of that in my future, but it would take me auditioning for it.
[For tickets, phone (212) 239-6200 or visit Telecharge.com. The Schoenfeld Theatre is located at 236 West 45th Street. For more information visit BridgesOfMadisonCountyMusical.com.]
*
Diva Talk runs every other week on Playbill.com. Senior editor Andrew Gans also pens the weekly columns Their Favorite Things and Stage Views.
PHOTO ARCHIVE: Four-Time Tony Nominee Kelli O'Hara on the Musical Stage